Recently my editor asked the writers to post photos that show where they write. All of us have various work spaces–some neat, some not so neat. My guess is most people don't think about where their favorite writer writes. Indeed, I have images of Rosamunde Pilcher ensconced in a beautiful room with an antique desk where she can glance out at her garden as she writes. And, maybe Jonathan Kellerman and his wife Faye have  back to back computers, and they spin off ideas with one another as they create. Perhaps the Richard Castles of the world write in a spacious, art deco Manhattan home office.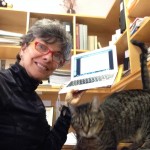 If truth be told, most of us write at a boring computer at a clutter desk. Often with a board in front of us to keep us on track with our plot points. Most of us deal with dogs at our feet or cats in front of our monitors. (That's me with my cat, Gabriella).
Where do I dream of writing? I have visions of a villa on top of a hill in Tuscany overlooking cypress trees (probably where Frances Mays writes). I'd sit at my desk and sip an espresso as I work away the morning hours and gaze at the vineyards below. Then I'd stroll into the village for a pasta lunch with a deep hearty wine and converse with the Italian crowd. The afternoon would find me taking a quiet pisolino (nap) under the Tuscan sun while dreaming of the next phase of my story.
As it is, I write in between everything else I must do and my cats keep me company. Actually it's pretty darn nice!