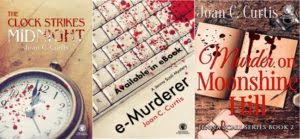 The clock is ticking away but Janie must finish her plan before her time runs out. Will she make it? This book is full of family secrets and suspense. As the two sisters grapple for time, their mother's killer connives and threatens to steal what little time they have left.
Watch this book trailer for a taste of The Clock Strikes Midnight
The award-winning Jenna Scali series starts with the e-Murderer. Jenna finds herself on the deadly trail of a serial killer who insists on sending her frightening emails. Will she succeed in capturing him before he strikes again and she's the next victim?
Watch this book trailer for a taste of the e-Murderer
SaveSave