The left side of our brain is always working away. It interferes with almost all our daily thoughts. That's where our logical thinking exists. It's where most writers spend the majority of their time. Particularly if they are in the editing mode. In fact, without the critical thinking of our left brains, we'd never be able to edit our work.
But, what about that other quieter hemisphere? How do we tap into the right side of our brain and release our subconscious?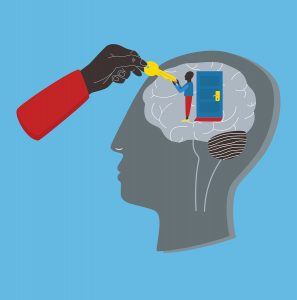 We don't have to do anything to release the left side, but the right side gets overwhelmed by the dominant left. Even if you are primarily a right thinking person, you may have trouble with that loud, annoying left side.
If you happen to be a left dominant person, it is trickier. I tend to be left dominant. For me, releasing the right side of the brain takes courage as well as determination. The left side is so loud. It screams at me. I hear things like "You need to know where this story is going." Or "How can your character take that action when you haven't planned for it." Or "Who is her aunt anyway, you never introduced her properly." OMG. The screaming left side can drive a writer crazy.
Does your left brain say, "You need to Google that place and learn where it is or how to spell the name." Indeed, the left is a perfectionist. It wants everything right the first time.
The right, on the other hand, is a free thinker. The right thinker is fine with misspellings and new characters who haven't been properly introduced. The right thinker doesn't mind going off on a tangent to see where it will lead. There is no screaming to come back to reality. The right thinker allows you to let go and experience something new, unexpected. But, how can you do that with the left constantly screaming?
Here are some tips I've created to quiet my left side while my right side explores:
Distract yourself. If the left brain is yelling at you, go take a walk or swim a mile. Get away from your story for just a short time. That will often help you clearly see what you can do and enable you to explore right-brain activities. When I'm stumped while trying to solve a crossword puzzle, if I do something totally different, the answer will appear.
Left brains love deadlines. They will keep you right on track. Right brains tend to take the long way around. If you are facing a deadline, you must put that out of your mind, to release the right brain. Eliminate self-imposed deadlines (I must write 1000 words today).
Meditate. Some people like to meditate with music; others prefer quiet. When you mediate, you give your mind a chance to explore the unknown. The trick with meditation (and one reason it's so hard) is you must quiet the loud thinking part of your mind.
If you hear a quiet noise in your mind more than once, pay attention. The quiet voice is likely the right side trying to get a word in. This happened to me in the writing of The Clock Strikes Midnight. As I wrote the book, I kept hearing one of my characters asking to tell her story. I ignored it several times. When I finally heard the quiet voice, I listened and responded.
Don't let the left brain push you to edit too soon. I fall into this trap often. After I've written 10,000 or so words,  I want to go back and polish them up. As soon as I do that, I've lost the creative path the right brain had me on. Beware of the desire to edit before a work is finished.
Writers are artists in their own right. They may never pick up a paintbrush, but they create with words. Artists learn to look at the world through the lens of their right brains. That's the challenge of good writing.
Yvonne Oswald's book, Every Word Has Power, describes the features of the conscious and unconscious mind. As writers we must cultivate both sides of our brain. Our conscious mind and our unconscious mind work together.
This post was part of the #AuthorToolBoxBlogHop. Take a look at the tips and good information from other authors in the hop. They talk about everything from the craft of fiction writing to how to market your book in today's world of social media. Enjoy!
SaveSave
SaveSave
SaveSave
SaveSave