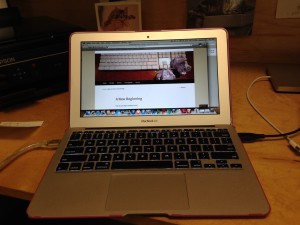 As I was swimming laps this morning, I was struck with the thought: Where do creative ideas come from? Not simply themes for a book but various creative plot points. For me a lot of those ideas do not come when I'm poised in front of my computer screen. Here are some of my experiences with creativity:
1) The ideas flow when I'm in the midst of writing. In other words, when I allow my fingers to fly across the keyboard without worrying about grammar or "if I said that before," the ideas pour out. Often this happens in the midst of dialogue between and among the characters.
2) Another place where I get ideas is where I least expect it. When I've been stuck–not sure what to do next or where the story is going, I move away from the computer. I go for a walk or a swim. My mind wanders to other things. The idea often comes in those innocuous places. In fact, I have had creative insights when I was stirring the sugar with the egg yolks over a double boiler for an endless period of time or when I'm on lap fifty in the pool. I don't try and force myself to think about the stumbling block, instead my mind wanders freely and then it happens. Eureka! The idea emerges and I'm unstuck.
These thoughts about creativity led me to reflect on how I work crossword puzzles. I tend to study the puzzle for a period of time, filling in the blanks that come easily. When I get stuck (as I invariably do), I move away from the puzzle. I put it down and go do something else. Again, as if a light goes off in my head, the answer to that pesky puzzle appears. I love the clues that require my mind to do a little flip. Here's one of my favorites: The clue was "breaking and entering." The answer was a six-letter word. Can you give it a go? If you are stuck, go take a walk or a swim and see if the answer will come.
I'll share the answer in my next post. Meantime, take a break from your computer and let your creativity flow.
How have you experienced creative insights in your writing?
If you liked this post and want to read more, sign up or follow me on Facebook or Twitter. @joancurtis Become part of this community and you'll get pre-sale information when The Clock Strikes Midnight is released.