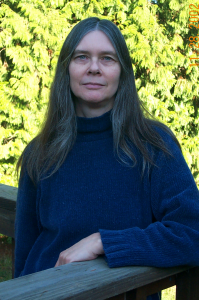 Today we are lucky to have an author Penny Lockwood Ehrenkranz visiting with us. She has published more than 100 articles, 75 stories, a chapbook, and her stories have been included in two anthologies. She writes for both adults and children. Her fiction has appeared in numerous genre and children's publications, and nonfiction work has appeared in a variety of writing, parenting, and young adult print magazines and on line publications.
JC: Gosh, Penny, I'm tired just looking at your output. You've been a very prolific writer and you say you began writing as a child. What was the first thing you remember writing?
Penny: I'm not sure I remember the very first thing I wrote, but my mother saved many of my first stories.  One was Patty and the Country Ghost. I find this interesting as my first published middle grade novel was Ghost for Rent about a young girl whose family moves from the city to the country only to find their rental house is haunted. (My original publisher went out of business, and it is being re-released with its sequel, Ghost for Lunch, by 4RV Publishing. I hope will be published within the next year.) My mother also saved a series I wrote about a girl who lost her parents and was adopted by an old man who lived in the forest. All of these were hand-written, illustrated by me, covered with cardboard and tied with ribbons.
JC: You, then, were a child of many talents. You indicate that you find writing easier than talking. Tell us a little about that.
Penny: 
  I much prefer quiet activities like reading, gardening, crocheting, to active team sports. Once I am comfortable in my situation, however, it's easier for me to open up and talk.  Writing is a way for me to communicate without facing my audience. I see neither approval nor disapproval. I can say whatever I want and not fear making a mistake or saying something that would inadvertently hurt someone's feelings since I have the option of editing and deleting before I send.
JC: Yes, many writers call themselves introverted. That must make the marketing part of a writer's life very hard. I see you've done blog tours. What else do you do to get the word out about your books?
Penny: Since I live in a small rural community, I don't have many options beyond the blog tour.  With my children's books, I do school and library appearances. I also send notice of any releases to our local and state papers. I have also volunteered to teach writing classes at the local grade school. In addition, I have Facebook, Twitter, JacketFlap and Google+ accounts. My blog is dedicated to promotion for other authors, who commonly (like you) offer to host me in return.
JC: Yes, I believe I first found you on Twitter. It looks as though you mix a lot of face-to-face promotion with your online presence.
Let's talk about your writing for a second. I notice that you write in two very different genre: children and romance. What motivated you to write in these genre?
Penny: When I first returned to writing after many years of believing I wasn't good enough, I took a course through the Children's Institute of Literature.
 I soon found, though, it was hard to find a publisher for my fiction. While I was taking the course, the instructors urged me to try nonfiction, since there are a lot more options for publication. I wasn't getting anywhere with my fiction, so I finally tried my hand at nonfiction.  I did, however, choose to "write what I know," and I used my experience both as a volunteer and a mother to address issues faced by other writers and parents. 
JC: Your path sounds very similar to mine. Indeed writing in the different genre gives us an opportunity to stretch and keep our writing fresh. Talk a little about how your writing process varies whether writing for adults or for children.
Penny: When I'm writing children's books, I have to be careful not to talk down to my audience.  I also want to be sure my main character is a child, and she is the one to solve the problem, not her mother, father or other adult. I make an effort to pay attention to the children in my life: how they talk; what makes them laugh; what makes them scared; how they approach problem solving.
When I'm writing for adults (besides romance, I also write fantasy and soft science fiction short stories), I have a lot more freedom to explore issues.  Obviously, as an adult, I know more about being an adult than a child (that was a long time ago).  In many ways, it's a lot easier to craft a story for an adult, although I do enjoy the challenge of writing for children.
My writing process for both adults and children though is the same.  I'm a pantser.  I don't outline.  I do keep notes about my characters: what they look like; what their traits (good and bad) are; how they approach life. I tend to see my stories playing out in my head like a movie, and it's simply a case of putting it down on paper and then editing later.
When I'm writing nonfiction, of course, it's quite different, and I do a lot of research, interviews, and take copious notes on my subject and how I want to present it.
JC: I'm excited about your book, Mirror, Mirror. Tell us more about it.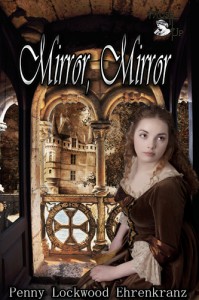 Penny: While there's no true "mystery," my main character does need to find out why she was transported back to another era and what she needs to do to get herself back home.
Lindsey Baker is intrigued by everything about the middle ages, but when she purchases an antique mirror and a costume to attend a Renaissance Faire, she suddenly finds herself transported back in time.  There she finds she's been called by a witch to right a terrible wrong. 
Graham loves Prudence, but he can't marry her because he's landed gentry, and she is only the baker's daughter.  Before Lindsey can return to her own time, she must convince Graham to marry against his father's wishes.  Unfortunately, she also finds herself falling for the handsome gentleman.
Can she find her way back to her own time, or will she be stuck in a time when women had no rights?
Short Excerpt:
After Stefany left, Lindsey adjusted the water spigots on her tub.  A few drops of bubble bath went into the water, and the soothing scent of lavender filled the moist, steamy air.  While the tub filled, Lindsey tried on her Renaissance outfit for the upcoming Faire. She couldn't believe her good luck at finding the perfect pieces.  She tested the bath water to be sure it was the right temperature. Then she picked up her antique mirror to get a better view. Was this a scryer's mirror at some point in time? It slipped from her wet hands into the bathtub.
"Nuts," she mumbled as she leaned over the tub.  She pulled one sleeve up on her blouse and fished around in the bubbles for the mirror. When she pulled the mirror from the water, spots appeared in front of her eyes, and she felt faint.  While she watched her reflection in the old mirror, the background changed.  She no longer saw the inside of her bathroom.  She closed her eyes as the room around her went black.
JC: Thank you, Penny. I'm sure our blog readers will want to find out if Lindsay gets back to her own time. They can purchase your book directly from the publisher at MuseItUp or from Amazon.
Don't forget to be the first to comment on this blog and win a free copy of Mirror, Mirror compliments of the author, Penny Lockwood Ehrenkranz.

If you liked this interview, sign up to get 2 free chapters of The Clock Strikes Midnight and all notices about pre-sales and contents.