Today I'm excited to welcome author DL Rogers to talk to us about the business of marketing. DL is a prolific writer who has released ten books. She will share her unique marketing experiences with us. But, before we get to that, DL, let's start with telling us what attracts you to the wild west. I noticed many of your books are set in the west.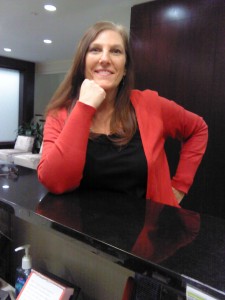 DL: I've always been fascinated with the west.  I love, and have always loved, everything John Wayne did as a cowboy and, as a kid, played cowboys and Indians more than I did Barbie.  I've also been fascinated with the Civil War since I was old enough to learn about it.  Because my Dad was from Tennessee and my Mom was from New Jersey, I've always wondered what it would have been like during that time, when families fought against one another in that war.  My cousin (whose father was from New Jersey and mother was from Tennessee) and I used to call ourselves "Yebels" when we visited, because we were both half Yankee and half Rebel. If I could say I had a "model" in what impressed me to write about the west and the Civil War in my seven book WHITE OAKS SERIES, it would be John Jakes with his Kent Family Chronicles novels.  I've read that series several times and it made a huge impression on me, the stories themselves, as well as his historical accuracy and what I learned by reading them. Besides all that, I'm somewhat of a tomboy (at least I used to be when I could be a tomboy!), I love horses, own four of my own, and used to ride all the time—until writing took precedence.  Now, instead of being a cowgirl and riding on the weekends, I write and/or sell my books.
JC: Maybe you satisfy your cowgirl needs through your books, but ten books. My gosh! That's amazing. Once you finish a book, do you go directly into the next book or do you take a breather?
DL: I generally start a new book in October or November, finish in April or May, and release in June.  Although I have five books published in ebook form with a larger publisher, I've chosen to work with a small, local publisher for the last eight years.  Why—because I can get a new book out every year – as my readers demand.  With the larger publisher, my readers would have to wait two years for every new book, or I'd have to write one in less than six months.  I still work full-time and commute over a hundred miles (round trip) every day, so that would be near to impossible, and I'm not willing to tell my readers they can't have what they want.  I've always had the opportunity to publish any of my new books with the larger publisher, but I have much more control over the when, where, and how of getting a new book out each year for my readers.  And after all, we write FOR our readers, don't we? I don't really get a break between books.  When I'm not writing, I'm selling.  Because my publisher is so small, I do all the marketing—which I enjoy.  Meeting people is fun, interesting, and, if they like you AND your work, sells books and brings them back for more.  But it's hard work, too, so you have to be fully committed to what you're doing to keep doing it year after year.
JC: Speaking of marketing. What kinds of marketing do you do through the social media?
DL: I have a website which showcases all my books with reviews, first chapters, news, and access to all my books for purchase at the click of a mouse in both ebook and hard copy form.  That website is:  www.dlrogersbooks.com .  Readers can also access my books on Amazon at http://amzn.to/1hBqKTu They can also browse my Authors Page on Amazon. Unfortunately, due to my time constraints, I don't do much on social media, other than posting (generally) on Sunday morning on Facebook (www.facebook.com/dlrogersbooks ), and a newsletter I send out once or twice a month, depending upon what news I have regarding my books.  I don't like to bombard my readers with too much information.  When I have news, I let them know
JC:  What do you find as the most successful way to get the word out about your books?
DL: Although I do Facebook and send out a monthly/bi-monthly newsletter, I feel the best way to get the word out is by talking to my potential readers face-to-face whenever and wherever I can.  I do this mostly at local events, but I love to speak at libraries or book clubs, or anywhere else that'll have me.  I like to let potential readers know who I am and what I offer – both entertaining and enlightening.  We have a conversation, they ask questions, and I answer them.  I've never been a blogger, per se, but I'm hoping to get more involved in that aspect.  I realize today's readers want interaction with their authors through blogging and social media.  I'm a bit of a dinosaur when it comes to all this technology and it'll take me a little longer to catch up with the rest of the pack.  But I WILL catch up—eventually.
JC: Yes, I hope I might be part of your debut blogging when the time is right. Meanwhile, on your website I see you are very busy with face-to-face events with your readers with six events in July alone! As a writer, it sounds daunting to me. How much time do you spend trying to "sell" your books?
DL: I get into my "marketing" head in April or May when the local events start and sell into December.  I do as many events as I can without burning myself out, which can happen easily when too many weekends are strung in a row, with no time-off between them and my full-time job.  However, I do it because I love it, and I love interacting with my readers, but sometimes it gets a bit overwhelming.  Generally, I do anywhere from 12 to 16 events between April and December.
JC: It sounds as though you like to be in front of your readers. What advice would you give to authors who have trouble getting out there in front of people?
DL: 
 So I talk to my readers and people who may become readers.  It's important for them to know who I am. I'll talk to someone for 20 minutes with the hope they'll purchase my full WHITE OAKS SERIES.  However, purchasing seven books from someone they've only just met, without knowing how they write, is daunting, even to me, especially in this economy.  So I offer one book instead.  I tell them to "get to know me and my writing."  Then they can come back for more. Most writers are introverts.  I've been blessed with being an extrovert, so I have no trouble talking to people and I find it is very helpful in the sales arena.  If you do have trouble talking to others, practice with family and friends.  Give them your "sales pitch."  Work it, over and over again, until it flows naturally, and then get out there and, as Nike says, "Just Do It!"
JC: Thank you for all these helpful tips about successful marketing for writers. You're definitely an inspiration. But, let's not go until we hear about your latest book. Tell us about Elizabeth's War: Missouri 1863 which just released in June.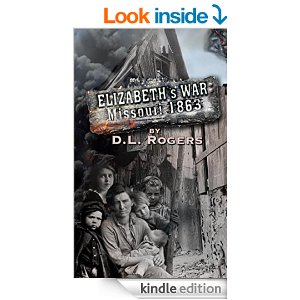 DL: In it we suffer with Elizabeth as she tries to keep her family safe throughout the Civil War in Cass County, Missouri, where raiders, bushwhackers, soldiers, and local militia rule the land, where neighbors and relations fight each other from opposite sides of the war.  When General Order No. 11 is issued, following the brutal attack on Lawrence, Kansas by William Clarke Quantrill and his Raiders, it forces thousands of mostly women, children and the elderly to leave their homes and everything they love within fifteen days. Elizabeth and her four children and her friend, Rebecca, and her nine children prepare for then begin a sixty mile trek to reach Elizabeth's kin, uncertain whether they survived the aftermath of the burning of Osceola two years earlier.  Elizabeth begins the journey with a plan, lots of food and water, but within days it's lost to soldiers and foragers, leaving them to travel with few provisions in the blistering Missouri heat.  Through Elizabeth, her family and fellow travelers, we live their fear, feel the heat, and suffer the helplessness thousands lived in the wake of General Order No. 11.
You can also purchase the (print) book through PayPal or directly through me at my email link at the website or by clicking on the book above.  Ebooks are also available at the website with just a few clicks of the mouse at the Ebook page.  Ebooks are also available through Kindle and Smashwords.com.  Of course, my publisher, Two Trails Publishing, can always be contacted for (print) copies of any of my books at cwbklady@aol.com
JC: That book sounds wonderful. I can't wait to read it. Thank you for sharing your marketing experiences with us. For readers who want to explore the other nine titles by DL Rogers, you can do so on her website.
Here's a taste of how she briefly describes her other books: A Vietnam Era book called
THE JOURNEY, set against the backdrop of Europe; Seven books in the
THE WHITE OAKS SERIES, which spans 1827 and the opening of Independence, Missouri, through 1890 and the Massacre at Wounded Knee, with every historical event woven into the books that you can think of.  The Oregon Trail, the Civil War from numerous points-of-view, the Indian Wars, including the Little Bighorn (from the Lakota POV), the corrupt reservation system, General George Crook's "Horsemeat March" following the Little Bighorn, a trip west to Cheyenne and Deadwood with Maggie, a woman's suffragist who can ride, rope and shoot better than most men, and culminating with the Massacre at Wounded Knee in 1890.  I've done extensive research on all my books and am somewhat anal about the history I portray being correct.  However, it all flows within the pages of a novel that captures your attention and holds it.  And…without even knowing it…might teach the reader a few things about our history without even knowing it.
If you enjoyed this interview, please join our community by signing up and get the first 2 chapters of The Clock Strikes Midnight.