My very first story won second place in a national competition which drew the attention of Reader's Digest. When I submitted the story, I didn't expect to win, but I did expect to write the best story I could. Indeed the final version of that winning story changed once the Reader's Digest editors got hold of it. But, I learned the value of submitting my work.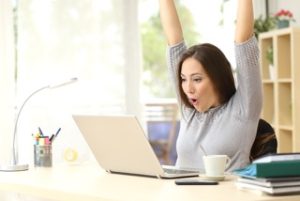 After that experience, I submitted a nonfiction book proposal to a writer's conference contest. It wasn't as prestigious as the Reader's Digest competition, but it still carried significant weight. Again, I didn't expect to win, but I wanted a deadline for getting the proposal written. That contest gave me a deadline. I wrote the best proposal I could write and guess what, I won first place. A few months later I landed the book deal and published my first book.
From that point on, I do not hesitate to enter my work into contests. Of course, just like with anything else, we must do our due diligence. Here are a few tips for submitting to contests:
Look at previous winners. Are they all from the same state or region? Do you notice nepotism? This is a problem with many writing organizations. People award the prizes to their friends. Don't waste your time or money on these groups.
Be weary of contests that cost more than $80 to enter. If the price is too high, it's not worth entering. Many contests cost $25 or less.
Make sure your submission meets the requirements. Some contests require new releases–those published in the current year. Others require a certain genre. Don't submit your mystery to a romance contest. Be careful to obey all the submission requirements. Often, they ask to have the book emailed to them in a particular format with particular information in the subject line. Obey all the rules or don't submit.
If the contest includes a critique or a narrative as to why your submission didn't win, that's a bonus. Most do not. If you hold out for contests that include this service, you might limit yourself.
Once you submit the work, put it out of your mind. It takes months before the final decision is made. One day, months away, you'll open your email to a Congratulations! You Won! 
Indeed if you don't submit, you'll never win.
Take a look at this video where I share my experiences with contests along with more tips.