She wrote in the 1930's and 1950's. Her books followed no set formula, and I'd say she might have been one of the first pantser writers. Those outliners who put us pantsers down might take a long look at a writer like Tey.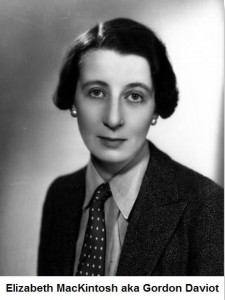 While Agatha Christie and Dorothy L. Sayers stuck to tried and true formulas–dead bodies in the library and other successful plots–Tey deviated from the norm. She wrote stand-alone stories each with its own mystery. The rules of the time included 1) no divine revelation 2) no feminine intuition, accidental discoveries, unaccountable hunches and 3) no undeclared clues. Tey didn't always abide by these rules.
She began writing plays and had a stage pen name as well as a novelist pen name. Her real name, Elizabeth MacKintosh, was unknown to most of her fans. She kept her personal life very private. When reading about her, I wondered if she might have been agoraphobic. Her reluctance to venture out, meet people and make friends was classic. Most of the people who knew her knew very little about her. One friend said, "She never spoke to me of her youth or her ambitions. It was hard to draw her out…"
Nonetheless she took up the pen and created stories that take us to wonderful places with interesting people.
You may find you like mysteries whose lack of formula creates even more suspense.