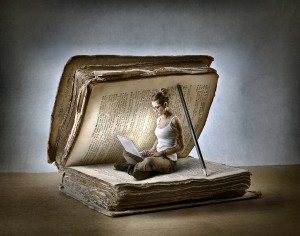 Recently I had the pleasure of seeing someone who read the original version of The Clock Strikes Midnight. She had read it ten to 15 years ago. It was the version written before receiving feedback about its genre misconception. The story then was told from the point of view of the two main characters when they were teens. It moves along with chapters from the point of view of others, including their mother and Aunt Sarah (two additional contrasting sisters). This story was re-written because the nature of the content was not deemed appropriate for young adults. Nonetheless, this unbiased young reader loved the original story. She is now an adult who is an avid reader. She begged me to pull out the original for publication on a new blog. She declared it was the best book she'd ever read (and, of course, she read it in manuscript–printed out form).
My dilemma is after all this time, the original book will need revisions. Yes, she loved it, but as a more seasoned writer today, will I? Is this like an artist's early painting that he wishes was never on display? Or, is this, indeed, a book before it's time.
Here are my ideas. 1) Agree to allow her to share the original as a prequel to The Clock Strikes Midnight in a chapter by chapter format on her blog 2) Ask her to get feedback from her readers as they read each chapter. 3) Depending on the feedback, polish the manuscript and submit it as a prequel to the Clock.
Or I can decide not to pull it out, to leave it languishing in my computer. That would terribly disappoint this reader.