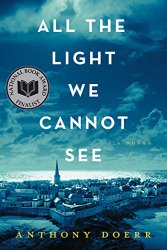 I was prepared to give this book 5 stars and more. As I read, I marveled at the author's beautiful writing and the power of his story-telling. The characters jumped from the pages. Clearly Doerr researched radio operations, the time period, and movements of a blind child with obsessive skill. I read each page with delight and awe.
Until the end…
As much as I didn't want this book to end, I got frustrated that it didn't. Even when things began to settle down and the author started tying everything up, he kept going. Much of the end was unnecessary. Gosh, what a shame. Did Doerr expand the end at the request of an editor? At the request of a beta reader? Why? He wrote with a beautiful crisp style until the end. It was as if another person picked up the pen. Please Mr. Doerr end the book with the same deliberateness as you begin it. Once the reader knows what happens to the characters and the plot dies away, let the story go.
Nonetheless I still suggest readers give it a try. For most of the book, you'll be stunned into silence by the beauty of the writing and the creation of the characters.
This book is about the liberation of France from the Germans during World War II. I know, you've read everything you wanted to read about that war, but this book gives a very different perspective. It is told at the very beginning of the liberation, when the Americans are bombing French towns (specifically a seaside town) to ferret out the Germans. The people of the town witness their lives , their homes, their businesses destroyed in order to be saved. Doerr takes a very unusual approach by presenting two different characters who are experiencing this terror. One, a 15-year old blind girl who is left alone in her house and who can't read the pamphlets the Americans have dropped on the town (Why did none of her neighbors rescue her, particularly the baker?). And, two, a 16-year old German soldier who is caught in the basement of a hotel once it's bombed. The readers learn all about these two characters by traveling back in time to when there was no war through the early days of Nazism to the capture of France and then to its liberation. The author skillfully shifts from one time to the next. Readers wonder what happens to the characters we meet and why they were not there on the day of the American bombing. I won't share the tension devices in order not to spoil the story.
Another thing Doerr does so well is create a blind character whose other senses carry her through very tough circumstances He describes the smells, sounds and what she touches with such clarity at times I forgot she was blind.
 That to me is a tragedy.