We are delighted to host James Hannibal on our blog today during his book release blast of Shadow Maker. 
Book Blurb
How far will collateral damage from a CIA drone strike reach?
When a suicide bomber shatters the peace of a winter afternoon on the National Mall in Washington, DC, former pilot and undercover Cerberus operative Nick Baron receives an eerie invitation from the chess app on his phone–a mysterious figure names The Emissary wants to play.
Nick and his covert unit–The Triple Seven Chase team–soon find themselves drawn into battle against an unknown opponent who has resurrected an ancient order of assassins: the legendary Hashashin. And there is a long-awaited prophecy being fulfilled by a series of violent attacks which may culminate in a final apocalypse over Jerusalem.
As the Triple Seven fight to stop each attack, Nick tries to keep the Emissary on the hook by Playing their digital chess game. The lines between the game and the fight begin to blur, as every time Nick loses a piece on the board, he loses one of his men. And if Nick cannot find a way to stop the terrorist mastermind, a checkmate may kill millions…
Excerpt from Shadow Maker
As Nick pointed out the National Air and Space Museum to his dad, he heard his wife quietly giggling to herself.
He never got the chance to ask her why.
Katy's laughter became a shriek as an immense blast rocked the Jeep up onto two wheels. The driver-side windows blew completely inward, showering the interior with glass. As the vehicle came crashing down onto four wheels again, it veered left into oncoming traffic. Nick fought the wheel to regain control, swerving back across his own lane and skidding into the curb with his foot jammed on the brakes.
The bomb had exploded ahead and to his left, next to Health and Human Services. The fireball that first flashed in his vision had become a black cloud. Debris rained down around them. Something landed on the roof with a heavy thump.
 "Are you okay?" he asked Katy, but she was busy reaching for her son.
 "Luke!" she cried.
 Nick turned with her and found that the toddler had escaped unscathed. Nick's dad had acted as a shield, taking the brunt of the flying glass.
 "Dad, you're bleeding."
 "I'm fine."
"Good, then take the wheel."
 Kurt Baron furrowed his brow. "What? Where're you going?"
 Nick didn't answer. He looked to his wife. She had several small cuts on the left side of her face, but nothing serious. Katy met his gaze and nodded sharply. "I'll be all right. Go."
He popped the rear hatch and climbed out of the Jeep, noting as he stepped around to his father's door that the object that had landed on his Jeep was a severed hand. He brushed it off the roof and into the gray-brown slush beneath the curb. "Dad, get up there and take the wheel. Get them to the hospital in Chapel Point. The closer facilities will be too busy."
 "You get back in the car and get us out of here yourself."
 Nick didn't have time for father-son competition. The Mall was about to fill with first responders and rubberneckers, and soon there would be no exit. Even more pressing, the reaper's relentless clock had started ticking the minute the bomb went off. As the ringing in his ears diminished, Nick was beginning to hear the wails of the dying.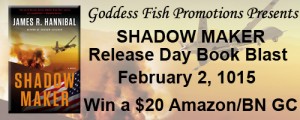 Join James on his tour and win a chance for a $20 Amazon or BN Gift Card. The more times you come and visit, the better your chances. And, you'll find out more about Shadow Maker with each stop. Find all the Tour Stops by clicking here.
HTML: Enter to win a $20 Amazon/BN GC – a Rafflecopter giveaway
Meet James
James R. Hannibal is a former US Air Force Stealth Bomber pilot with over a thousand hours of combat experience including over-watch, close air support, and HVI captures. He graduated from the US Air Force Academy in 1997 with a bachelors of science in Middle
Eastern Studies and earned a masters of science from Central Missouri State University in Aviation Safety Sciences. His flying career included the A-10 Warthog, B-2 Stealth Bomber, MQ-1 Predator, T-38 Talon, T-37 Tweet, and the Boeing 737, 757, and 767. When he is not flying or writing thrillers, James occasionally reviews for the New York Journal of Books.
Links where you can find James and his books: Amazon, Barnes&Noble, IndieBound, KoboBooks, BAM, Powells, Walmart, Publisher 
James on Twitter, on Facebook on his website