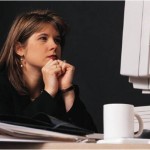 How many of you who write feel that sense of loneliness? I realize that a lot of us write for the pleasure of being alone.  For the opportunity to work at our computers without input or direction from others.  That's great.  The flip-side comes with that feeling of floating out there without a paddle.  Without knowing which way to go.
I get this feeling of floating after I've created something.  During the process of creating, I'm happy to be floating in my own world.  Afterward I need others.  I need to know if what I've written makes sense or captures what I was trying to capture. I need another set of eyes on my work. I need to know what to do next with the piece.  Do I publish it or put it in a drawer?
Here's the rub, at least for me.  I love the isolation of writing. I love the quiet room (and often chase my husband off the premises when I'm writing). But, I miss the camaraderie after I'm done.
Being a person who likes to have my cake and eat it, too, I want both. I want to write alone and edit with colleagues.  How can I do that without having to deal with "writer's groups?"
One way is through the Critique Circle.  This is an online group of all kinds of writers from all over the world.  We edit one another's work.  I have found this group to be a wonderful resource.  Almost all the suggestions I get have been valuable, and I've met some new and interesting writers.
I'm asking all writers out there, how do you deal with writer loneliness? What suggestions do you have?