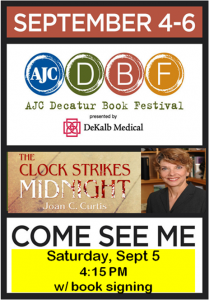 Readers love to meet the authors who write the books they love. Even though so much of what we do is online, there is still a draw for going to book festivals and book signings. I head Michael Connelly talk at the Decatur Book Festival a couple of years ago. What a delight to hear how he created his characters and the way he writes. This year Ron Rash will be at the Book Festival. He wrote one of my favorite books, Serena. If you haven't read it, you should. In Serena, Rash created a truly evil character. I will be curious about how he came up with the story.
The agenda is packed with lots of authors who represent all kinds of books, from fiction to nonfiction to memoir. There are children's books with the authors demonstrating their characters with games to entertain the old and young. It's delightful that books still create such widespread interest.
In my next post, I'll include some pictures from the festival and information that I learn during the sessions.