What a treat we have in store for you today!
Her delightful personality shines through in her many award-winning books. I consider her an inspiration. She agreed to visit us today and talk a bit about the extended family featured in her murder mystery series. Enjoy!
The Alvarez Family Murder Mysteries–Heather Haven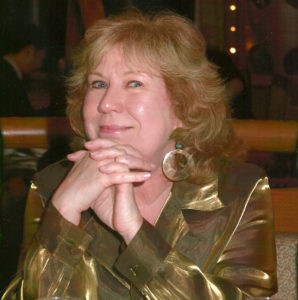 As the author, you have to make sure the humor comes across but doesn't get in the way of the all-important mystery. When Murder is a Family Business won the Single Titles Reviewers' Choice Award 2011, I hoped I was onto something. When A Wedding to Die For, the second of the Alvarez Family series, became a finalist in both the EPIC and Global Awards 2012, I cheered. When Death Runs in the Family, the third offering, won the Global Gold for Best eBook Mystery Fiction 2013, I was thrilled and went on writing. DEAD….If Only, Book four, won the Silver Global in 2015, and now there's The CEO Came DOA. I'm beginning to think there is an appeal for a quirky family filling different roles in the family-owned detective agency, Discretionary Inquiries, a detective agency which investigates software, hardware, and Intellectual Property theft. Murder is just not part of their job description.
Lee Alvarez, the protagonist, is a reluctant PI who wanted to be a ballerina, but is a mediocre dancer, at best. As a ferret, however, she's aces. Lee is aided in the job by her brother, Richard, a computer genius sans social skills, who runs the IT department. These two are kept under the beautifully manicured thumb of their never-had-a-bad-hair-day CEO and mother, Lila Hamilton Alvarez, she who has been known to chill chardonnay at a single glance. Keeping the home fires burning is Tío, uncle and retired head chef, offering unconditional love and tortilla soup. Love interest, Gurn Hanson, listed in the yellow pages as a CPA, is also an ex-Navy SEAL. He comes in handy now and then. Add to this group a white and orange cat named Rum Tum Tugger and you have the cast of characters.
The series starts two years after the unexpected death from an aneurysm of the patriarch, Roberto Alvarez. His death causes the realignment of familial positions, not an unusual occurrence after so big a loss. Did I mention this series is humorous? But you have to start off in a serious place in order for humor to work. Really, really. Just ask Milton Berle.
Anyway, these unmatched souls do their darnedest to be positive, supportive, and loving of one another, no matter how annoying the other's behavior. Lee Alvarez sometimes becomes overwhelmed, but always tries to be a B&BP (bigger and better person), even while chasing the bad guy over rooftops, ruining her Bruno Magli's.
All in all, I wanted the series to be warm and funny yet real, with on-going characters you wouldn't mind hanging out with, although blueblood and matriarch Lila Hamilton Alvarez does not 'hang' unless she's moving her Monet closer to the baby grand. I've been lucky that so many readers and reviewers get what I've been attempting to do with this odd little family i.e., let's have fun while solving a crackerjack mystery!
Another important issue for me is to show blended families. The Italian half of my ancestors came to the States in the early twentieth century, when it was difficult to be Italian. But they worked hard to integrate and became useful members of society. I decided to write about new immigrants working hard and succeeding now, today. The series revolves around a half-Latino, half-Palo Alto blueblood family that has managed to capture the American dream through perseverance, hard work, familial love, and oh yes, with a trust fund. Money never hurts, folks.
Check out Heather's newest release: 
Book Five
The Alvarez Family Murder Mysteries
Someone is trying to sabotage the Initial Public Offering of 'Read-Out', a small Silicon Valley start-up, and Lee Alvarez has been hired to find the culprit. Meanwhile, the first Alvarez grandchild is about to be born while Lee is planning her very own Christmas wedding; or rather letting her mother plan it. When Lee finds the CEO hanging by the neck in his boardroom wearing nothing but baby blue boxer shorts, she has to ask herself, was it suicide? Or was it murder? If so, was the saboteur responsible, one of his business partners, or even his famous rock star ex-wife? There are too many suspects and the bodies start piling up just in time for Christmas. Ho, ho, ho
You can find all of Heather's books on her Amazon page or her website: http://www.heatherhavenstories.com/