About 500 writers convened outside of Orlando Florida to celebrate the Florida Writer's Conference last Thursday through Sunday. Workshops for new and seasoned writers of novels, screenplays, short fiction, poetry and much more provided needed advice and encouragement. This conference celebrated its fourteenth year and attracted writers from Florida, Georgia, Missouri, Alabama, and more.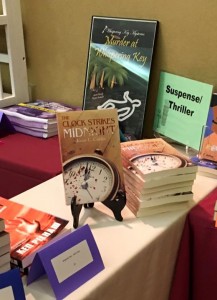 During the conference the Royal Palm Literary awards were announced. The finalists sat nervously during the banquet dinner, wondering if they might be a lucky winner. Vigorous judging from anonymous judges considered everything from short fiction, poetry to book length fiction and nonfiction. Award winners walked on the stage to receive a nice plaque and to have their photos taken.
I sat with my colleague, Bernadette Boas. We had no idea which category my book might fall into–mystery, suspense, woman's fiction or mainstream. With mainstream being the toughest to nail because of the number of books represented in that category. Each finalist appeared on a big screen that scrolled throughout the dinner. When those at our table appeared, we applauded. Finally after an interminable hour wait, the awards ceremony began.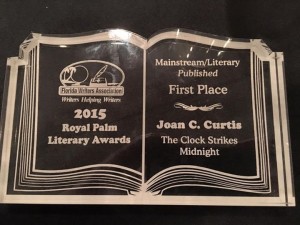 With great surprise and delight, The Clock Strikes Midnight won the first place Royal Palm Literary Award for Mainstream/Literary book length fiction. I stumbled to the stage, somewhat stunned. The photographers snapped photos in every direction.
The tag line for the Florida Writer's Association is writers helping writers. The beauty of this award is that it represents other writers recognizing the work. Like the Oscars, where others in the industry recognize one another, the FWA does the same. Writers can be very tough on one another. By winning first place in this broad category, I felt humbled.
If you're a writer and want to experience the support of other writers, check out the Florida Writer's Association. They are truly writers helping writers.