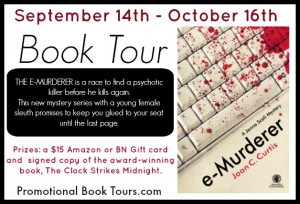 The first week of the blog tour for #eMurderer began this Monday. We already have more than 3500 entries in the Rafflecopter drawing! The tour will go on for three more weeks. Can we triple the number? That would be amazing. We are giving away a $15 gift card to Amazon or Barnes and Noble and a signed copy of the newly released in print, The Clock Strikes Midnight. It's so easy to win.
So what's on the blog tour?
Book Blast– The book blast consists of the blurb, an author bio and the book trailer for the book. You'll find all the information to order the book on the online sites. All you have to do is retweet the blog, comment on the blog, join me on my blog or on Twitter or Facebook and voila, you've entered to win the gifts. Take a look at Gina's Library posted last week.
Excerpts– In addition to lots of information about the book and about the author, some blogs on the tour include excerpts from the book. It's a great way to decide if this book is for you. And, of course, you can once again enter to win by clicking on the various entry choices. So easy! Reading With Frugal Mom has a nice excerpt from the book.
Interviews– Many bloggers like to interview the author. Their readers like to learn more about who the author is, what the author likes and dislikes, how the write and much more. In addition to learning about the book, you can read the Q&A from the author. FoofyNotFoofy interviewed me in her post.
Guest Posts– Several bloggers offer the opportunity for the author to share their thoughts in a guest post. The posts that appeared this week included: Pros and Cons for Reading e-Books vs. Print Books, An Interview with Jenna Scali, the Amateur Sleuth in the e-Murderer, 5 Misconceptions for Writing Fiction. Many more posts on other topics will appear in the weeks to come. 4Covert2Overt published the guest post on eBooks vs. Print books.
Reviews– Some bloggers take the time to read and review the book during the tour. (Thank you very much!) They share their thoughts and ratings of the book. In comments, readers can learn even more about what the blogger thought about the book. Diane Cato reviewed the e-Murderer this time and she wrote: "I loved the quick start of this story as well as the character of Jenna." Read the full review on FictionZeal.
So, why not join me and the wonderful blogs hosting the e-Murderer for the next few weeks. You'll not only learn a lot about the book, about me, the author and lots of about reading and writing, you'll also get a chance to win the prizes! Come join the fun!