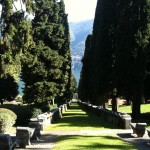 Last night I dreamed I was tucked away in the hills of Tuscany, far from Internet connections and traffic sounds. I looked out the window from the small tiled-roofed house where I sat amongst soft chairs and an ancient typewriter. Outside, I breathed in the smells of honeysuckle and lilac. Beautiful Bouganvilla draped over the tree trunks and Cypress tress rose like soldiers in the background. A ginger tabby cat sat in a beam of sunlight next to the window ledge.
Ah, the scene begs me to write. It begs me to create the next installment of my Jenna Scali series. Jenna (whose father was Italian) wants to find her roots. She travels to Italy in search of her father's family. There murder and mayhem must occur. She might even get distracted from the handsome cop she's dating in the US by a charming Italian. Who knows?
Oh well, I must wait. I'm not in Tuscany. I'm sitting at home in front of my desktop and dreaming of Italia. . .un posto troppo bello!
But the creative juices are flowing.
Next stop, Italy!