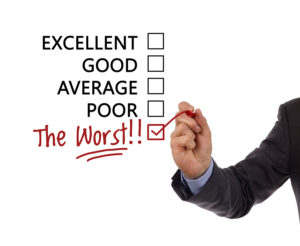 In my last post, I talked about what similes and metaphors were and how writers use them to add power to their writing. What I didn't discuss was how writers might abuse these two figures of speech. Learning what a simile is and learning how to use them are important. Learning how not to abuse them is equally important.
Let's look at the biggest boo-boo's writers make when trying to incorporate similes and metaphors. What I consider the worst mistakes.
Readers love to see a good simile. They recognize it as quality writing at its best. But, if you have three similes or metaphors in one paragraph or even in two paragraphs, the reader gets tired. The writer wants to incorporate these figures of speech for the most important messages, not for every message. Imagine a sentence like this one:
The man ran through the fence like a bulldozer and stumbled over the log as if it were a dead body, falling to his knees as though in prayer.
A bit too much, wouldn't you say? Three similes in one sentence!
By cliche I mean something everyone has heard before. There's really nothing terribly wrong with using cliches. And if you're writing dialogue, it is acceptable usage (People talk in cliches). But, if you can think of a comparison that is different and not cliched, you will create a more powerful metaphor. Here's an example:
As soon as the man entered the room, he stopped, not wanting to upset the apple cart.
How many times have we heard the expression upset the apple cart. This metaphor has been around since the beginning of time (which by the way is a cliched metaphor).
Sometimes coming up with your own simile or metaphor takes time and thinking, but when you get one that works, wow! It feels wonderful.
Perhaps you've heard of mixed metaphors or common images that don't work together. Here are some examples of mixed metaphors:
He could talk till the cow turned blue
People are dying like hotcakes
His words hit home like my uncle's Chevy
Notice that 1) A cow can never turn blue 2) People don't die like hotcakes 2) How can your uncle's Chevy hit home?
The metaphor must be able to do what it is compared to for example he could talk till the crops died on the vine.
I've mentioned just three mistakes. There are probably many more.
Here are some good examples of similes and metaphors:
She spoke to me in tones like my mamma when I'd missed dinner.
Rioja? Now there was a wine that would clash with the stew as Achilles clashed with Hector.
…Then, like a lone sailor adrift for years on alien seas, he wakes one night to discover familiar constellations overhead.
…with rhetorical questions and capital letters and an army of exclamation points.