Sometimes we wish we could bury ourselves in our writing and never face the social world. But, more writers are learning that the way to get the word out about their books is through social media.
I always thought of Pinterest as a place to post pictures. I couldn't imagine it as a place for writers. But, things have changed. As for me, I find a lot of good content on Pinterest. There's a wealth of information for writers and readers. People post a picture with a link and that link takes the interested viewer to a website with a blog post or a book review. Pinterest doesn't work without pictures, but we can add a lot to the pictures we post.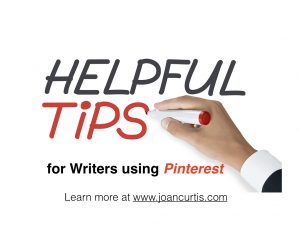 Here are some things I've learned about Pinterest:
Post a catchy picture. One that will attract a viewer to click on it.
Include a title. Something like, "Writing Tips for Using Pinterest."
Be sure to add the link to the picture. I've see some interesting titles and pictures that have no link. That's frustrating because I want to read and tweet the post.
Add the Pinterest icon to your browser address bar. That way you can easily pin photos you like whenever and wherever you see them.
In addition to posting your own articles and links, you can find other content that might interest you and your followers. Add those to your boards. Pinterest also suggests similar topics and I find those very helpful.
What kind of content might you post on Pinterest? Check out these ideas.
Post tips for writers. I love to read what other writers say about the craft of writing.
Post the reviews on your books. You can link back to a review on Amazon or to your own website.
Post your own reviews of books for readers to see.
Create a board that focuses on your characters. In addition to the bio you create for your characters, think about a Pinterest board. What are your character's likes, dislikes, hobbies. Who are your character's friends, pets? You can even ask your readers to find a picture of something that they think your character would enjoy. For example, if your character loves chocolate, you could ask people to find a great chocolate dessert to post on that board.
Create reading boards with the books you love. I call it my Must-Read board. Here you can showcase your own favorite authors.
Your personal boards that illustrate places you'd like to go (or where you'd like to set your next novel), hobbies you enjoy, movies you like, sports events or stars that you follow, tell readers a little about you as a person. It's much more interesting than a bio.
You could create a story board in which you try out story ideas with your followers. This might include pictures from settings.
Create boards that showcase your favorite authors. For example, if one of your favorite authors is Agatha Christie, you can create a board that includes her history, her books, her life with links to the many movies and television shows based on her books.
These are just a few ideas for Pinterest boards for writers and readers. You probably have more ideas of your own. Share those here with all of us!
Finally, don't forget that Pinterest is a social place. Be sure to follow other people whose pins you like. And, comment and respond to pins you find interesting. Add people who have similar interests to yours.
Check out my Pinterest page here! And follow me.