The word, "feel," connotes telling. When you say Jake felt anger, you are telling.
This becomes a major conundrum in the world of creative writing. We want our characters to have feelings, strong emotions, but how do we convey those emotions in different ways to our readers?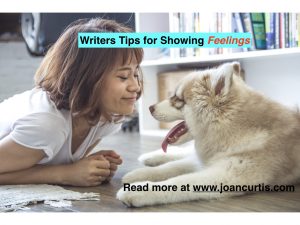 Here are some tips I've found useful:
Show the emotion through nonverbal cues. Jake lifted the chair and threw it across the room. That action shows the reader how Jake felt. A tear rolled down Mary's cheek. We know Mary felt sadness. Let's say Mary's situation was different. Something really funny happens and Mary gets tearful from laughing. If you simply say a tear rolled down Mary's cheek, the action seems inconsistent with the situation. You'll need to show more. For example, Mary chokes back the laughter that bubbled inside her. But unable to do so a moment longer, she howled with mirth till tears ran down her cheeks.
Use another character to describe someone's emotion. Your point-of-view character may be in a better position than you are to share how characters feel. Here's an example: Mark watched the color change in Louise's cheeks. Her face went from pink to crimson in the span of a few seconds. Clearly, he'd hit a nerve. Again, Mark is showing us Louise's reaction to the situation.
Fredrik Backman is a masterful writer. He's the author of A Man Called Ove and Britt-Marie Was Here among others. One thing I love about his writing is the quiet way he shows emotion. He does it within the context of the character. I'm going to share some of my favorite examples from Britt-Marie Was Here. 
She looks at him as if she just bought a new bag and he vomited in it. Think about that description. Yes, it's telling, but wow, it tells so much. We know exactly what she thinks about this person she just looked at. I'd say total disgust, wouldn't you?
She says the word "team" in much the same way as Britt-Marie says "cup" when she's got a plastic mug in her hand. Here the author describes the feeling by using that character's quirks. Britt-Marie hates plastic mugs. In fact, she considers anyone who drinks from one rather uncouth. Again, we sense the feeling without the author telling us what that feeling is.
…looking at them as you might look at a stranger on the underground who just sneezed in your face. Backman is so creative with his words to describe feelings that I found myself marveling page after page. Again, in this example, just image how you'd look at someone who just sneezed in your face?
The reason we want to show the reader feelings rather than simply tell them is it challenges the reader. It makes the reading more enjoyable. If I simply say, "Ted felt sad when he looked at his wife's dresses hanging in the closet," I'm leaving nothing to the readers' imaginations. When I use some of the techniques above, I allow the reader to imagine the feeling. The worst thing you can do as a writer is to show and then tell. By this I mean, Imagine if Backman had written, "She looks at him as if she just bought a new bag and he vomited in it. She felt disgust." Had Backman done this, I probably would have thrown the book across the room and never read another word of it. (What feeling might that have expressed?).
Here are some more tips from my writing desk.