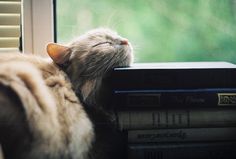 I've often wondered what keeps writers writing. As a reader, I'm grateful that people out there in the world persist in this rather unrewarding activity. I say unrewarding only in the sense of traditional rewards, e.g., money, fame. Most of what writers get instead is criticism or armchair hindsight. So why do writer's write?
I will share some of the reasons I write and some of the reasons I've heard other writers say they write.
In other words, we are very verbal people. We express our thoughts, feelings and more through the written word. Some of us also do so through the spoken word, but most writers prefer the written word. Why? There's little rebuttal. We can get all our thoughts and feelings on the page without controversy (until later, of course).
For some of us, that's all we're really good at. Writing is our thing. Our friends and colleagues come to us to help them construct their written idea. "You're so good at writing, could you look at this letter for me?" or "You write so well, please help me with my proposal."
Many writers will say they write for themselves, but most of us write for our readers. We want to please readers through our writing. We hear their pleasure through reviews and when they tell us face-to-face. That creates a warm feeling that keeps us at it.
If you want to be a writer, you need to recognize the realities when settling on this career.
Very few writers hit it big and in today's market even those are not making the money they used to make. And, no, your first novel will probably not be made into a movie. Likely, it will sell a few copies and then disappear into oblivion. If you crave fame and fortune, I'd suggest another career, professional baseball, maybe?
You might think you've written the best piece of fiction ever and your Beta readers agree. "Wow, you've got something here." But, you send it out and you learn many people do not like your work. When you put your work out there, you must take the criticism along with the praise. And actually the best work garners both.
In other words, you probably will never recoup the hours in money or recognition. Sometimes, you may never get what you've written published.
Thank goodness! Why do you keep writing. Share your reasons with us.