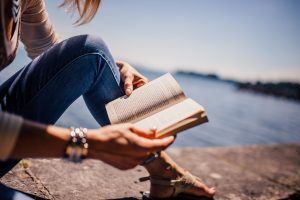 With summer right here and the pool beaconing me, I wonder which book I want to take to distract me from the screaming kids and the hot sun. Even though I love reading nonfiction, I prefer something lighter in the summer. A great mystery or a white knuckle thriller. You might even find me with a romance. Some of my friends enjoy fantasy and sci-fi for their summer reads. Summertime reading goes way back for me. When I was a pre-teen, I remember spending long hours draped across a lounge chair on our back porch, engrossed in a book. It's hard to say how long I spent there before I got called away to do chores, but my memory of those lazy summer days is never without a book. My love of reading began during those days on the porch. For me reading signals a time to relax, put your feet up, and escape into another world.
Later during trips to the beach, my husband and I spent hours reading under an umbrella and listening to the sound of the ocean. I must've read every Robert Ludlum book there was. Once we picked our lazy bodies up and meandered back to our hotel room or beach house, we continued to read until dinner. Those were wonderful times. Reading made trips to the beach special even on rainy days.
So, many years later, I'm still a summer reader. That doesn't mean I don't read during the other seasons, it just means my reading choices change during the summer and those choices reflect the long, lazy days from my past.
and why they make such great summer reading entertainment: