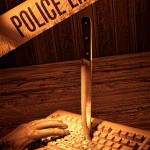 Recently I read a blog interview with Beverly Bateman in which she talked about her writing style. I was intrigued to hear the way she "plots" out her books. Clearly her style and mine are different.
Bateman is a plot driven writer. When asked whether her characters or her plot came first, she quickly responded, "No, my plot always comes first. I love to plot and once I get an idea for a plot I think about for a little while, get a feel for it and then I start to work on the type of characters that would work in the story."
For me, it is the opposite. I am character driven. The plot surrounding The Clock Strikes Midnight, for example, completely changed as the characters emerged. I had to know the characters intimately to be able to tell the story. The plot grew and developed along with the characters. Once I knew the characters and their motivations, I could create the story around them. In other words, rather than start with plot and creating characters who fit that plot, I start with characters and they generate the plot. Often I start with an idea or the germ of an idea, but many times that idea disappears or completely changes.
n my cozy mystery series beginning with e-Murderer, the plot pushed the characters. In this instance I felt myself more plot driven. Like Bateman, I knew what was going to happen and I was pretty sure I knew how it happened. The actual getting there was fuzzy. That part emerged with the characters, at least for me. Bateman sounds much more plot driven than I am even in this instance. For me the characters have a lot of control over the story. There was a red herring that popped up in the cozy mystery story that I had not anticipated. And, new characters introduced themselves with great frequency to move the story along.
It seems to me all writers have a different style. What works for some doesn't work for others. There is not a strict formula. If there was, well, I guess everyone would be writing fiction!
What is your style?