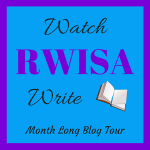 Welcome! Nonnie Jules.
The Rave Review Book Club and the Rave Writers International Society of Authors is hosting a month- long blog tour. The authors are sharing stories. You'll definitely want to read this one! Author, Nonnie Jules, submitted a story that comes from her newest release, Prison Wives. Take a look at Nonnie's story and visit her on the #RWISA website.

Prison Wives
I am an unlikely character to tell these stories, but, I do know that each day that we are blessed to open our eyes, we never know what surprises, good or bad, that day will bring. No matter how much and how well we plan, the universe always steps in to show us just how much, we are not as in control of things as we thought we were.

These are real stories of moms, wives, spouses…those significant others who are left behind; those innocent, and maybe even not-so-innocents, who are left to pick up all the pieces that are shattered when their husbands walk out the door and don't return in the time frame in which they are expected to.

No, he didn't run off with another woman…he was apprehended somewhere between here and there by a law enforcement officer, and, for whatever reason, he's now being held behind bars…property of the city until the state steps in to claim ownership. And, although these men are the ones incarcerated, it is the entire family that serves the time.

These are not sob stories to drum up sympathy for the accused. But, this book will serve as a doorway into an open dialogue, so that we are all aware of just how much children suffer when their dads are taken away.

These stories are but small ways to shine light on the effects of imprisoning low-level offenders for long periods of time, ripping them from their children's lives, and the negative imprints left behind. This is a plea for reform of a justice system that will quickly parole a drug dealer, murderer, rapist or child molester, who will more than likely repeat-offend, yet hangs on to low-level offenders who may have made a one-time mistake or even worse, was forced to take a plea for a crime which he is innocent of, simply because he was too poor and couldn't afford top-of-the-line defense. We do know that this happens, don't we?

Lastly, this is so that we don't forget those that are forced to soldier up and walk into battle each and every day, standing on the front lines of a war that they have been shielded from for far too long. These soldiers fight daily just to keep a roof over the heads, food in the mouths, and hope in the spirits of the children who are also being penalized in this war.

These are the stories of PRISON WIVES. 

CHAPTER ONE – SAMMIE

Sammie was so excited about their upcoming road trip. Not for the travel element, but, because their son Jeremy, was about to lead his team to another high school championship for a third straight year. Jeremy was a senior and also big man on campus, as Rozdale High's, 6'3, All-American Quarterback. The one drawback to Sammie's excitement, was they had to travel cross country to play. Sammie hated to travel, she also hated to fly, so road trips were always the name of the game for her family. This year, she was especially apprehensive about their road trip and yet, she had no idea why.

The drive would take them 21 hours and 32 min to reach their destination of Clearwater, FL. from Lubbock, TX. And, since Jeremy had to be there on Friday, this would mean a full day and a half of travel prior to. Sammie, mother of three daughters and one son, knew that her husband Josh had a suspended driver's license, yet, he would have to share the drive time with her anyway. This was not an option as none of their children were of legal driving age, and Jeremy, the oldest, would not get his license until he turned 18 in the following year.

On that hot July morning as they backed out of their driveway, Sammie sat in the passenger seat and prayed. "Dear Lord, guide my family safely from this place to the next and back again. Return us all safely to our home…together. Amen." Sammie wasn't what you'd call a deeply religious woman, but she embraced her spiritual side and she strongly believed in the power of prayer.

The family drove along Interstate 20, then passing through Louisiana, Mississippi, Alabama, they finally entered into the state of Florida. There were many stops along the way, but it was the last one that they would never forget. With almost seven hours left in their journey, they heard the sounds of a police siren behind them. When Sammie looked over her shoulder from the backseat, which she'd retired to hours before to stretch her legs, her heart sank so low, she could almost hear it hit the floor of the rental van.

Pulling over into the gas station they were headed to for their next potty-break, Sammie's mind raced wildly. Not only did Josh have a suspended license, but he also had an outstanding warrant back home for a false probation violation, which they were aware of.

"I know I wasn't speeding, officer," Josh offered as the policeman approached his door.

"Yes, you were, sir," the officer responded, surprisingly with a smile. A lie, I thought. "License and registration, please."

Knowing all too well that it was going to take a miracle to keep him from being arrested right there, Josh, ever-protective of his children and family, asked the officer if they could get out of the van to use the restrooms. If the worse happened, he didn't want his children to see him in handcuffs or in the back of a police car. The officer said "Sure," again, with the same smile on his face.

With his entire family inside, Josh tried to convince the officer to please let him get his family to safety and then he would return home to deal with the issue. His wife had no idea how to make the rest of the long journey without him, he shared. But, still being kind, the officer said that he just couldn't do that. He had to take him in.

Sammie's phone rang from inside the gas station. "He is arresting me," came Josh's shaky voice through the phone. Her heart sank again. "You are going to have to make the rest of this trip without me. Sam, you can do it." His voice quickly changed and now held a firmness to it. He knew he had to appear strong or she would quickly become unraveled.

Tears filled Sammie's eyes. She'd been married to this man for 15 years and for 15 years he'd taken care of her, done everything for her…made her life so easy. Now, he was telling her she had to continue on this long journey without him. OK, but when they arrived, what then? Josh had shielded her from the real world for so long, she wasn't sure if she could take a breath without him. But, she had to…for their kids. If she had been alone, she might have given up right then and there.

Sammie stood in the parking lot and watched the officer drive away with her husband in the back seat of the car, while she had asked the kids to stay inside and away from the windows.

When she realized that she wasn't dreaming, she wiped her tear-stained face with the tissue in her hand. Composed and in brave face, she walked back inside to collect her children, as they were now both her reason and her strength to get them through this long, arduous journey – a weekend without their father and then back to Texas, safe and sound.

Sammie had no idea how hard it would be once they headed back home five days later with the questions and comments from the kids about their father. "We can't leave here without him," said 8-year-old Vanessa. "How is he going to get home?" asked 12-year-old Maggie. "Why can't we just stay here until this is straightened out? It can't take that long," added 16-year-old Zandra, the sassy one of the bunch. Sammie was thankful at that moment that Jeremy had chosen to remain silent. His un-asked question was one less stab to her heart.

Not knowing the severity of the situation, Sammie drove along, oblivious to all those words that could cut deep into her heart. How would she find the words to tell these kids, who had never gone more than 7 hours without seeing the dad they worshipped, that she didn't know when he'd be coming home again?
Did you love the story? Visit Nonnie at her site here. Or check out her page on the #RWISA here.