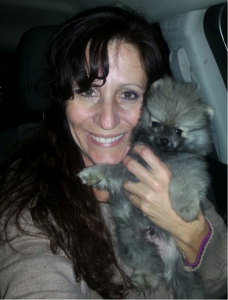 Today, we are fortunate to welcome newly published author, Sheri Chapman. She is releasing her first e-book, Eyes with No Soul from MuseItUp Publishing this July. Let's hear more about Sheri and her journey as a writer, a mom and an animal lover.
JC: What do you love so much about writing?
SC: I love being creative.  I feel a connection to the universe… and it's a way to be free!  I let my mind go and let it take me wherever it wants.  I can be who I want to be!  Anything is possible and within reach. 
JC: Writing can take away stress, but you are a mom and a school teacher. When do you find time to write?
SC:  I never sleep! LOL!  I actually take my laptop to practices.  At soccer, I may sit on the bench or in the car at volleyball, I'm in the bleachers with it.  I also write, edit, etc., after everyone goes to bed.  I know it isn't the healthiest practice, but my me-time is from 10:00 to 11:30 or so.  During the school year, I get up between 5:00 and 5:30 (depending on my puppy situation – I also raise Pomeranians.)
JC: My gosh! You sound like a very busy person and yet you made it along the grueling path to publication. Tell us about that journey.
SC: It seems I've been trying to find a publisher for ten years. I would research in writing magazines; on the net; anywhere, but it was rejection after rejection. I think I understand where my problem lies. I would not get to the hook fast enough – and I would provide too much information at the beginning. I'm getting better and learning as I go. Teaching English and writing also helped me to improve. I wrote a short story for a contest and decided to send it to Muse.  I also submitted a werewolf story.  I was sad to get a rejection on the werewolf one and happy for an acceptance on the short story!  (I thought it might be the other way around.)  Muse was so great about providing suggestions to me so that I can rework my shape shifter novel to resubmit – if I ever get the time!
JC: What drew you to writing young adult dark fiction?
SC: Young adult is the population I work with at home and at school. I feel as if I know the audience very well. If I can continue to teach, guide, or entertain them, I am still involved with the young of today. Many teens are attracted to "the dark side."  Of course, we all want good to prevail. Teens are finding themselves, and they experiment with good and bad.
 Writing stories that appeal to them is rewarding to me. I'm still attracted to the same type of story myself.
JC: Your interest in young people is apparent. Tell us about your new novel.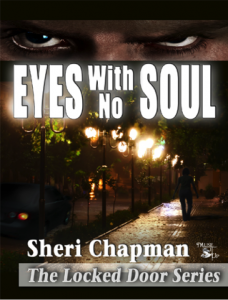 SC: Eyes with No Soul  is about a sophomore high school girl who has a touch of precognition. She can tell things about her close associates by just looking at them. However, her psychic door is blasted open when she and her friends go to the mall and literally bump into a murderer. Laurie (the main character) has her first truly psychic episode where she visualized the murder scene.
Unfortunately for Laurie, she is nearly a twin for the murder victim. This fact doesn't escape this man's attention. He begins to stalk Laurie.  Because of her age, the police don't take her seriously. Laurie must outwit the murderer in order to survive.
JC: Wow! That sounds intriguing. I love a good mystery. Tell us what you hope your readers will say about your book.
SC: I want my readers to enjoy it!  If they love it, it inspires me to continue making them happy.
. As a teacher, I believe knowledge is the key to unlocking fear, ignorance, and one's potential.  I feel it all starts by picking up a book.
JC: As busy as you are, my guess is you're working on some new writing projects, right?
SC: I have several. I started a sequel to Eyes with No Soul.  I am also working on editing an adult historical romance about a white captive Indian saga set back in the 1700s, and I have on my agenda to rework my YA werewolf novel.
Thank you, Sheri, for dropping by today. Readers who are interested in reading or sampling Eyes with No Soul can click on the link on the book cover above or go directly to the MuseItUp bookstore.
For more information about Sheri and her upcoming works, check out her website.
If you enjoyed this interview, sign up for 2 free chapters of The Clock Strikes Midnight and get information about contests, pre-sales and more.