When we overuse commas, it distracts the reader. Conversely, when we leave out a comma, the reader may not understand what we are trying to say. Punctuation has an important place in the writing. But, is it the-be-all-end all?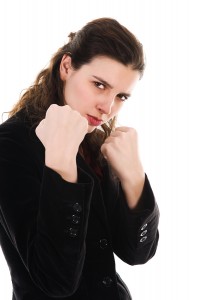 As fiction writers, we can violate some rules of grammar. For example, it's okay to write in sentence fragments. Of course, if you write only in sentence fragments, your readers will get annoyed. Writers use fragments to convey action, quick short events. Or, in dialogue. Most of us do not talk in complete sentences. Balance your sentence construction.
In my view, many of today's authors try to use punctuation to display emotion rather challenging themselves to do so with skillful writing.
What I mean by that last statement is when we use (and overuse) exclamation points. An exclamation point does connote extreme emotion, but the savvy author knows how to convey that emotion without cheapening it with an exclamation point. Recently I read a novel (self-published) in which the author not only overused exclamation points but he also used bold and italic to create emotion.
Here are some tips to add emotion without overusing exclamation points.
Characters gasp. Chills run up a character's back. They hold their breath. Talk in jerky sentences. All these actions show us the emotion without using an exclamation point. If you wish to show extreme happiness, think about what you might do to convey that happiness. Do you clap your hands with glee? Does your heart nearly stop from the shear pleasure of it?
Whenever something happens to you whether it's a near miss accident or the arrival of that long-awaited contract from a publisher, what happens to you? This journal will help you better describe your character's actions when they happen.
In other words actions are expressed by feelings. We act in a certain way because we feel something. Tears tumble down our cheeks when we feel sadness or extreme joy. Our hands clench when we feel frustration. We walk fast when we feel rushed. The list is endless. Pay attention to your own feelings that propel your actions.
As writers, we must not cheapen our craft by becoming too enamored with punctuation to share what we are trying to convey..
Here's an example of good writing that combines punctuation as well as emotion.
When she closes her eyes, Fiona recalls the pale smells of her mother's skin and hair; a smell like new muslin washed in salt water and left to dry in the wind. She tries to remember her mother's voice, and the pitch and treble of it passes through her, the rhythm of it so clear that for the shock of a moment they are returned to one another in the way they had been when she was small, connected by frail strings.
Can you feel the emotion the writer is sharing?
Here's another where the emotions are expressed:
He raced through the terminal, not stopping to apologize when he careened into someone. Sweat ran down his face and his heartbeat quickened. Would he get to her before she stepped on the airplane and disappeared from his life forever? He swallowed the lump in his throat. Fear gripped him. Spotting her alone as if under the light of a moonbeam, he nearly collapsed with relief. Not until his arms crushed her to him did the tears of joy flow.
The second example shows how feelings propel the action. As a reader, we are running beside this man, hoping he will get to his beloved before she leaves him forever. We feel what he feels.
These are some tips for using punctuation to create mood without cheapening your writing with the over use of exclamation points. What suggestions do you have?
Here's a #booktrailer that conveys suspense. Do you feel what the character feels?
SaveSave