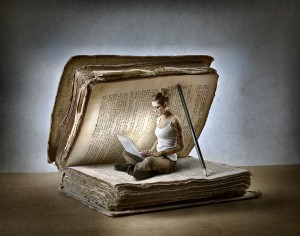 In my last post I talked about the need for writers to learn the craft of writing fiction. Many writers in today's world do not take the time to learn how to write fiction. Some feel if they've written academic papers or business reports, they can surely write a novel, right? Wrong! There is much to learn as far as fiction writing is concerned. But, where in the world do writers learn how to write?
Some writers take creative writing courses. This is indeed a nice start and it helps to stimulate creativity. Creative writing instruction gives writers a new-found freedom to their writing. Nonfiction or academic writing is much more structured. The freedom to create and the flow that comes with that is very important for fiction writing.
What are some other ways to learn the craft of writing. Attending a creative writing class is a nice beginning, but it's not everything.
Here are some helpful writer's blogs with lots of information and tips for writing:
Writer's Digest  http://writersdigest.com
Live Write Thrive http://www.livewritethrive.com
Helping Writers Become Authors http://www.helpingwritersbecomeauthors.com
One Year Novel http://oneyearnovel.com/blog/
MJ Bush at Writin Geekery http://www.writingeekery.com
Now Novel http://www.nownovel.com
Joan Says, Writes, Reads http://www.joancurits/blog
Writers Write http://writerswrite.co.za
All Write–Fiction Advice http://allwritefictionadvice.blogspot.com
Kill Zone https://killzoneblog.com
Here are some books I found helpful:
Bird by Bird by Anne Lamott. This book not only has wonderful writing tips but also is a great motivator for writers.
The Fiction Writer's Toolkit by Bob Mayer. This book takes you from your idea to how to write your novel. Beware of any hints about publishing. That world changes too much for any printed book to keep up.
Scene & Structure by Jack Bickham. This book focuses on structuring a scene and plotting.
How to Rewrite, Edit and Revise by Theodore Rees Cheney
For Mystery writers here are a few of my favorite books:
Deadly Doses: A Writer's Guide to Poisons  by Serita Stevens 
Scene of the Crime: A Writer's Guide to Crime-Scene Investigations by Anne Wingate (There is also a great blogger who deal with these issues. Check out http://dyingwords.net A blog written by a former homicide detective and forensics coroner.
Most conference present sessions on the art of publishing, how to market your book but also on techniques for writing. Go to those workshops and soak up what you hear.
All of these activities will help you learn the craft of writing.
What are your favorite blogs, books, conferences with writing tips?