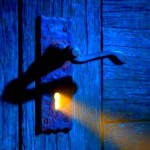 What's it take to write a mystery? Do you think you can do it? Take this quiz and find out
True False
1. Everything I know about mysteries I've learned from Law and Order.
2. Blood and gore must be in all mystery-writing for it to be any good.
3. Sitting down to write a mystery is easy because all you need is a dead body and a detective.
4 . I've never read a mystery I didn't like
5.  Whenever I read mysteries, I never try to work out whodunit.
If you answered True to any of these questions, you will probably have trouble writing mysteries.
Number 1:  Law and Order is a wonderful television show, but it does not tell you everything you need to know about writing crime fiction. You will need to do a lot more reading and research. The laws in New York City are quite different than in other communities. Furthermore, a television show cannot go into the detail you will need as a mystery-writer. Your policeman/detective will have to know many things that you cannot gleam from any television series.
Number 2: Yes, some mysteries are full of blood and gore. But, there are many mysteries, the cozies for example, that refrain from all the bloody details. The violence is done "off stage." Readers can surmise the blood and gore without having to live and breathe it. Many excellent mysteries do not sicken their readers by vividly describing gruesome murders.
Number 3: Good mysteries require more than a dead body and a detective. In fact the more characters (both the victims, their families, and others) that populate the story help maintain the reader's interest. Indeed a good mystery series has to have a strong series character, such as a detective or policeman or ammeter sleuth. Many times, however, it's the secondary characters that keep the mystery interesting. For example Melrose Plant in the Martha Grimes series. Melrose isn't the only interesting character that reappears in her stories, there are others, each with their own idiosyncrasies. If you don't believe number 3 check out Anthony Bidulka's recent blog where he ran a poll among readers to determine the value of subsidiary characters. http://anthonybidulka.com/what-is-the-role-of-subsidiary-characters-in-a-book/
Number 4: If you've never read a mystery you didn't like, you're not a discerning reader. Writers are discerning readers. They read everything, including mysteries they do not like. The reasons for not liking the mystery could be anything–poor writing, violation of point-of-view, too much violence, too little violence, not believable, too predictable. In order to become a mystery writer, you must read with an eye toward learning. When you read something you don't like, you can't just put it aside and say, "I didn't like that book." Instead, you must determine what you didn't like so you can learn not to repeat the error.
Number 5: Writer's of mystery are always trying to solve the puzzle. That's why they write mysteries! If you tend to be a person who likes to go along with the story without piecing together the clues and uncovering the killer, you are probably not cut out to write mystery.
But, you are a great mystery reader!
So, how about it, what might you add to the quiz for determining if you're a mystery writer?
If you liked this post and want to see more author interviews, reviews and more, join me on Facebook by Liking my page. www.facebook.com/joanccurtisauthor