It's the story about how a young widow and her four children pack their bags and leave England for the island of Corfu. The oldest of the Durrell children is Lawrence Durrell (Larry to his family). He is a budding writer who later becomes the famous author of the Alexandria Quartet.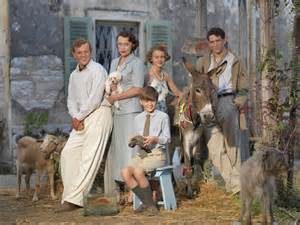 Watching this writer tussle with himself in his early years brought to mind several of my own struggles and confidence issues. One of the reasons Larry's mother abandoned their home in England was that her children were not happy. Larry, in particular, worked in a dead-end job that he hated while all the time dreaming of writing. In Corfu, he devoted himself to writing. Could he succeed? Was he living a pipe dream? His sibling belittled him but his mother encouraged his work. When his first story got published and he received a tidy sum that the family desperately needed, he got a jolt of confidence.
One thing about Larry that many writers don't have was an over abundance of confidence. Even when his first novel was rejected by the first publisher he sent it to, he didn't give up. Well, he almost did. He tried farming for one day and that only made him want to redouble his dedication to writing. What he said when he got the rejection was, "That publisher will regret this decision." Larry knew he had talent.
The question is whether we fall under the illusion that we are not destined to write or whether we push ahead. Larry was certain that he was good at what he did. Are you?
We won't please every reader and we won't please every publisher. But, are we pleasing ourselves? Writing is a solitary job. Much of the time we are reading and critiquing our own work. And our worst critic is ourselves.
I'm grateful Durrell didn't become a farmer. I'm grateful to his mother for whisking him away from the drudgery of England and placing him in a world that inspired him to write. Why am I grateful? Because he has given me hours of entertainment by writing such amazing books. You can, too.
What are your secrets for persevering in the lone world of writing?