We are welcoming author, Lindy Hudis today to the blog. She's written a new crime novel titled, The Crashers. Comment or follow Lindy to win an autographed copy of The Crashers.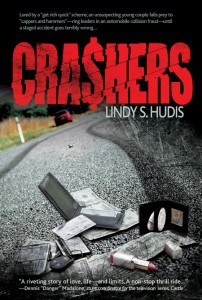 Fraudulent car accidents is a multi-million dollar racket, involving unscrupulous medical providers, personal injury attorneys, and the cooperating passengers involved in the accidents and who also receive a portion of the illegal proceeds. Such is the fate of newly engaged, Nathan and Shari, whose joy is tempered by the dark cloud of mounting debt. A chance encounter with a stranger in whom Shari confides her troubles, proves fortuitous: he tells her of a get-rich-quick scheme that will put her and her fiance on easy street. Seduced by the chance to move from hard times to good times in no time, she finds herself acting as a stuffed passenger the victim in a staged auto accident. Shari gets her payday, but getting out and breaking free of the insurance fraud underworld will take nothing short of a miracle. A modern day cautionary tale that uncovers how the innocent get lured into the scheme of cappers and hammers.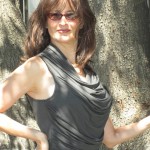 Ms. Hudis is not new to writing even though this is her first crime novel. She's an accomplished writer with several books under her belt. Here's a short bio for your information.
Lindy S. Hudis is a graduate of New York University, where she studied drama at Tisch School of the Arts. She is the author of several titles, including her romance suspense novel, Weekends, her "Hollywood" story City of Toys, and her crime novel, Crashers. She is also the author of an erotic short story series, "The S&M Club" and "The Mile High Club". Her short film "The Lesson" was screened at the Seattle Underground Film Festival and Cine-Nights in 2000. She is also an actress, having appeared in the television daytime drama "Sunset Beach". She and her husband, Hollywood stuntman Stephen Hudis, have formed their own production company called Impact Motion Pictures, and have several projects and screenplays in development. She lives in California with her husband and two children.
To whet your appetite, check out this excerpt from The Crashers:
Chapter 1 

For KXXX TV and KXXX AM Radio News, this is Katie Carlson with your mid-morning eye-in-the-sky traffic report, and it's an easy one: It's messed up EVERYWHERE! So far, the 405 South is backed up all the way to the 101. So, if you are going into Hollywood this morning, you are going to be late for that audition. Also, there is an injury crash on the Eastbound 10. So, if you are heading into downtown LA, you might want to bring a magazine or get some knitting done. If you are going to LAX, forget it, call mom back east and tell her you will be driving out instead. Just Kidding! Any way, this is Katie Carlson with the Los Angeles mid-morning traffic report. Enjoy your commute everybody, NOT!
Don't forget to enter to win autographed copies of Lindy's book.
Check out all the stops TODAY only and increase your chances to win a free book!
Link with Lindy
Twitter     Facebook   CrashersBooks    Goodreads  Amazon