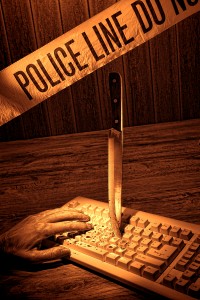 Everyone writers meet advise them to "write what they know." If writers did that, there wouldn't be many books out there. As writers, we must go beyond what we know, but we must also base our writing on fact. Even fantasy writers must stay within the realm of believability.
Have I ever seen a murder? Has anyone in my family experienced murder? Have I personally killed anyone? The answers to all those questions are NO! So, how can I writer about murder?
One answer is that most of us think a lot about murder.
When that guy cuts you off and runs you off the road, don't you think about murder? When a friend betrays you, maybe sleeps with your spouse or does something nasty to one of your children, don't you think about murder? We often say, "I'm gonna kill that guy." But we don't do it. If we killed someone every time we thought about doing so, we'd probably have lots of dead bodies around us.
We think about what actually drives someone to kill someone else. All those little instances above probably wouldn't drive us to kill. So, what does? Motivation to kill is a big part of writing a mystery. Our creative minds play with the all important, why.
But, we must also imagine the investigation after the murder. Again, not being privy to many murders, myself, how can I learn more about the investigation? I want my books to ring true. That means I must research. I must talk to homicide detectives and to medical examiners. I must learn the steps. I chose an amateur sleuth for my mystery series. I did that because if she makes mistakes regarding the investigation, it's understandable. She shouldn't be sticking her nose in things anyway, right?
Furthermore, the mystery must have some mystery. So, we not only have to understand motive and research the investigation, we must create scenarios that are clothed in mystery and intrigue. If everything is too obvious, what's the point of reading? Real life murder is often more cut and dried. The husband killed the wife in a fit of anger. Or, the drug addict son killed the father. But, our mysteries must have more hidden agendas and clandestine circumstances.
All these factors make writing mysteries a challenge, but it can also be great fun. Anything challenging is worth doing, right?
What have you enjoyed from the mysteries you've read? Do you like knowing the killer, but not knowing how he's caught? Or, do you prefer mysteries where the killer isn't revealed until the end? Tell me more about the mysteries you like.
Here is a short video in which I talk about the Challenges and Fun about writing about Murder.