I enjoyed every moment I lost in this book. Here are just a few of the reasons I'm telling you to waste not one second and order The Brothers' Keepers.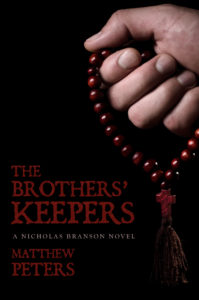 The author skillfully takes you from place to place (spanning France to Afghanistan) and created action scenes that enable the reader to fly through the book. Reading it on my device, I couldn't scroll through the pages fast enough.
The book will remind you of Dan Brown's Da Vinci  Code. The characters are searching for secrets from the past.
Like with the Da Vinci Code, I kept asking myself, "Is that true?" Peters gives a thorough account of his references at the end of the book–suggesting lots of fact in his historical accounts. You will learn a lot about the early days of Christianity.
Unlike Dan Brown, the characters are not cardboard. Creating a plot driven thriller as Peters did in The Brothers' Keepers and creating good characters isn't easy. But Matthew Peters did just that. The main character, Nicholas Branson, is a Jesuit who hasn't taken his vows but who is well-respected for his vast knowledge of Bibilical history. His consort is a young woman, Jessica Jones, whose skill set includes curiosity and a drive to find out the truth behind her parents's death (not a spoiler).
As the book progresses the reader fears all powerful forces are at work to wipe out our two heroes. These forces are believable and scary. I'm a reader who likes to be scared but not terrified. Peters did a nice job of creating a conflict that kept me reading.
This is definitely a must-read.
You can find Matthew Peters at his website. Or, the Melange Publishing site on his author's page or on Amazon's author's page, Twitter or Facebook.