We are fortunate today to welcome three-time published author, Paul Carr. Paul will talk about his experience as a writer of mystery/thriller fiction and his latest book, Black Palmetto.
JC: Hi Paul and welcome to my blog. It's great having another Southern born writer to talk today. Tell me how has living in the South affected your writing?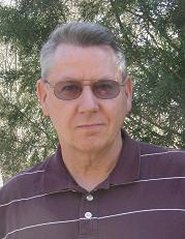 PC: I don't think living in the South has affected my writing to a large extent. Though I have a lot of respect for the famous Southern authors, I don't read much fiction dealing with Southern themes. I have always aimed my stories toward a wide audience. This is one of the reasons for setting my adventures in Florida and the Caribbean. People from all over the globe end up in those places. In my books, some of them are ruthless criminals.
JC: Indeed, I did notice that many of your books take place in the Caribbean and that you are a Navy veteran. What is the connection there?
PC: I've always been fascinated with that area of the world for its beauty, serenity, and excitement. It's a paradise, and I think many readers daydream about being there, walking the beaches, and sitting under the palms with a cold drink. Also, all that water, wealth, and remoteness make it a ripe setting for crime stories.
JC: Yes, readers love the escape and the wonderful beaches depicted in your books make for that kind of escape. Turning now to your career, tell us what took you from a career in economics and finance to writing mystery thrillers? 
 PC: I suppose it started watching my father enjoy the books of such authors as Mickey Spillane, Richard S. Prather, and Brett Halliday. Over the years, I read those and other mystery greats, but the authors that really struck a chord were John D. MacDonald, Ross MacDonald, and Raymond Chandler. I had always been a writer on the jobs I held, and some years ago it hit me that I could make up stories like the ones I enjoyed reading. I found out that it's a lot more difficult than it looks, but I stuck with it, and after a number of years and drafts and rewrites, I finally produced a good mystery thriller.
JC: That's funny that you say it's a lot more difficult than it looks. I've heard people say over and over, "I've always wanted to write a novel." But, as you know few people have and those who have never get published. The task of doing both is quite daunting. Tell us about your journey to get published and how you landed your first contract.
PC: Like many new writers, I queried lots of agents with my first book, Long Way Down, but was unsuccessful in getting one to sign. Since virtually none of the large presses accept queries unless agented, I turned my attention to small presses. I sent the manuscript to several, and this took months, since they all wanted an exclusive review. Then, one day, I received an email from a company saying they would be pleased to publish my book. Needless to say, I was ecstatic. They did a great job with it, creating electronic and print versions. Sadly, the leader of the company passed away a year or so after publication of my story, and others in the operation decided to close shop. They returned my rights, and I republished the book last year, along with my second novel in the Sam Mackenzie series, The Cayman Switch.
It's a great company, and I'm very pleased with all the fine work they did to bring the story to market
JC: Congratulations on those successes. Tell us about The Black Palmetto.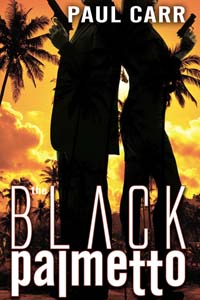 PC:  Here's the blurb from the back cover:
Hired to find a man who has stolen classified information from a government research facility, Sam Mackenzie and his partner Simone track their quarry to the backwater town of Iguana Key. Sam soon finds himself at police headquarters for questioning after a local citizen is killed. As the murders continue, the police need a scapegoat and their sights are dead set on Sam. 

To get the police off his back, Sam enlists the help of Lora Diamond, a beautiful newspaper reporter, and Harpo Crumm, a homeless man also hunting the killer for reasons of his own. He uncovers a connection to a secret government program that reaches all the way to the nation's capital. Navigating a minefield of hired thugs and assassins, he stalks the killer and becomes a target himself. The intersection of the players' investigative paths leads to a deadly conclusion.
JC: Wow. That sounds very intriguing. I'm curious about Sam MacKenzie. how have you managed to create a series character who can carry three books? What have been some of the struggles with creating a recurring character .
 PC: He's something of a mystery, in that I don't go into much detail about his background. I think it makes him more appealing to the reader, and it also gives me the capability to bring in new information in later books that suit the story and keep him interesting. He has flaws, deals out justice to lowlifes, and makes his own rules, but he always tries to set things right. This is the kind of character I like in a book, and I like to think he carries consistently throughout the series. I also have recurring associate characters that I think make a difference. Most TV shows or book series I have enjoyed have a strong cast of supporting characters, and I've tried to attain that with my books. I've had readers tell me they like one of my supporting characters best, because he's such a bad boy.
JC: I like two things you said. One that you created a character you like to read in books and two most good series have a strong supporting cast. I agree with both those statements. Now, what's in store for Sam and your writing in the future? What's your next project?
PC: I'm currently working on the fourth book in the series.  It's a new adventure set in Key West and the Caribbean. Sam finds himself pitted against some of his most dangerous villains yet in a tale about industrial espionage on a classified development project. I plan to complete it within the next few months.
JC:  I know many of my readers will want to read The Black Palmetto or perhaps start with your first book in the series, Long Way Down. You can find these on Amazon and Barnes and Noble and all the other outlets as well as clicking on the links in this site. Thank you, Paul, for being her today and we will look forward to more great writing from you!
PC: Thanks, Joan. I love your blogs, and appreciate your hosting me today!
If you enjoyed this interview, read more by signing up for the RSS feed to this blog or signing up for 2 free chapter of The Clock Strikes Midnight.