Talented writers know how to do this without overburdening the reader. Many new writers do not understand the difference between a simile and a metaphor nor do they understand how to use these figures of speech.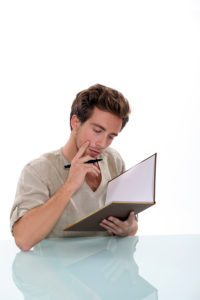 Let's first look at what in the world a simile and a metaphor is and how they may be used to spice up your writing.
Here are a few examples from published works:

His voice sounded raw, like it had been run against a grater

Being loyal to the one who owned me gave me prickly thoughts, like burrs trapped in my shift

Michael was a short, fat, somnambulistic little man who looked like a well-boiled prawn

Notice that each comparison has a connecting word. In these examples "like" was used. But you can find many more that use other connecting words.

Notice how the examples above give the reader a more vivid picture of the description. In the first one, the writer could have stoped after his voice sounded raw. We readers would have made different interpretations of what that meant. But, by adding "like it had been run against a grater" gives the reader an actual sound.

In the second example, again the writer could've stopped before the simile. But the second part makes me tingle inside. Doesn't it you? It provides the feeling, the emotion.

And the third example shows not just a short, fat man, but a man who looks like a well-boiled prawn. Can't you just see that?

Metaphors do much the same thing as similes. They help add power and feeling to the writing.

What is a metaphor? It's a comparison, like a simile, but without the connector. It says one thing is another that it cannot actually be. It's a rhetorical comparison that cuts to the chase.

Examples:

Gossip is the foul smell from the Devil's backside.

The truth in his harsh words was a hammer striking a stone.

A bruise is how the body remembers it's been wronged.

Note there are no connecting words but there are comparisons. In the first instance gossip is compared to a foul smell. Gossip cannot ever really be the foul smell of the Devil's backside. That's not what matters. What matters is that the reader understands the speaker's belief about gossip. The writer says it in few words but makes a big impact.

The second instance similarly compares two things that aren't alike: truth and a hammer. Again by using this metaphor, the reader clearly feels those harsh words as if hit by them.

And, finally in the third example bruise is a body's memory. Very powerful, very rhetorical.
What powerful similes and metaphors have you seen in your reading? Share some!
In my next post, I'll share how new writers abuse these figures of speech along with some tips for how to incorporate them into your writing.