Today we are excited to welcome RHANI D'CHAE as the Rave Review Book Club Spotlight member. She's written an exciting new mystery series beginning with, Shadow of the Drill which tells the story of…
A brutal experience transforms an unproven young tough into a ruthless killing machine. For 15 years he waited, building his body into an unstoppable weapon so that vengeance would be had through the strength of his will and the power of his hands.
We are thrilled that she agreed to share some of her thoughts in a guest post.
Getting The "Thirst"
About 30 years ago, I had a conversation with one of my heathen kids, Timothy. Timothy was a huge fan of all things Anne Rice and a lover of vampires in general.
This was back in the late eighties, and AIDS was a concern from coast to coast. In the early days, there was no treatment, and certainly no cure. To be infected was to be given a death sentence, and though there was always talk of someday finding a cure, that day seemed unlikely as the number of deaths continued to rise.
Timothy and I were chatting about the Anne Rice book that he was reading, and he asked me what I thought would happen if a gay vampire drank the blood of a person with AIDS. I said I wasn't sure, and we chatted about it for a few minutes before returning to Anne Rice. But the idea stuck in my head, and a few days later I went to my word processor.
Soliloquy of the Damned was a short story about a gay vampire who was worried about drinking infected blood. In my story, the result you of doing so was unending sickness that left a vampire facing centuries of half-life and longing for the true death.
I was pleased with the story when it was done, but it was received with skepticism by those who read it. The line of thought was that since a vampire was undead, he couldn't possibly be susceptible to illness or disease. I grudgingly agreed, and put Soliloquy on the shelf.
Fast forward to 2013. HBO's vampire series True Blood is in its sixth season, and Hepatitis V is responsible for an increasing number of vampire casualties.
This was what I'd been waiting for! Thanks to True Blood, the idea of a vampire being susceptible to a virus was no longer ridiculous. But while Hep V had been created specifically to kill vampires and was therefore fatal, the AIDS virus was natural, and would not lead to death.
So I dusted off Soliloquy, gave it a bit of a rewrite, and changed the name to A Perilous Thirst. When I put it on Amazon, I wasn't sure how it would be received. It's very different from my full-length novel, Shadow of the Drill, and I was afraid that the people who liked that book would be disappointed by this one. Aside from that, it's a different kind of story in general. There is none of the throat biting, bloodsucking stuff that is usually present in a vampire story. But I put it out there and hoped that it would be accepted.
And it was! I have been shocked, and totally thrilled, by the positive response that it has received so far. I plan to write a sequel, and if that is successful, I may give my vampire his own novel.
Timothy was a heavy smoker for decades, and lung disease took him on May 25, 2014 at the too-young age of 50. Thirst would never have been written without him, and I know he would have been so excited to see how far it's come since that long-ago conversation. I think he would have seen much of himself in my vampire, though any resemblance was not intentional. But his was an indomitable, creative spirit that could find a way around almost any obstacle, and that part of him does live on in the pages of Thirst.
What a great story! And, the fact that Rhani persisted even when her first story was rejected tells us a lot about this author.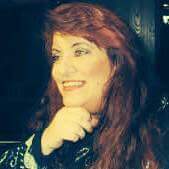 Rhani D'Chae is a visually impaired writer, reader, and lover of cats. She is currently working on the second book in the Drill series, about an unrepentant enforcer and the violent life that he leads. 
Follow her on Twitter @rhanidchae and Facebook at  https://goo.gl/UvY4YY and also take a look at her website to learn more about her and her books. Website – rhanidchae.com.
As for me, I'm excited to learn of a new mystery series and can't wait to start the first one.