I was really looking forward to reading Goldfinch. The hype around it as well as wonderful responses from my reading friends, left me anxious to read it. Often with a book that I know will be good, I save it. I always like to have a good book waiting in the wings. Did this Pulitzer-Prize-winning book measure up to the hype?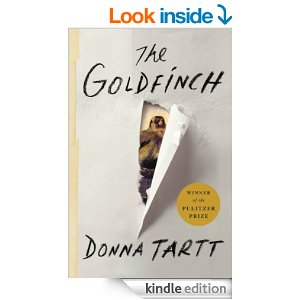 Unfortunately I have to say it didn't. Indeed parts of it were very good, but it certainly wasn't a book I'd rank up there with say–Cutting for Stone by Abraham Verghese or the Dovekeepers by Alice Hoffman– a couple of my favorites. What it is that made Goldfinch a Pulitzer? I am left wondering.
Told from the point of view of a young boy through most of the book, the author did a nice job of putting us in his skin. The way she described his grief was absolutely on the money. Furthermore, she created a flawed character, but one with whom the reader could sympathize. I wanted Theo to be safe. I wanted him to do the right thing. Often he made poor choices, but given his circumstances, that was understandable and believable.
The subplot (if there was a plot) dealt with the painting. Perhaps that was the plot. This is where the book slows down. What was the action? Not until nearly the end of the book does action happen, and it was like a bullet being shot from a gun and going plop. For me the entire story was very slow and plodding.
This could have been a 500 page book rather than a 700+ page book. It was not redundancy that troubled me so much as asking myself, "why is this still happening." Too often the author thinks readers don't get it. But more often than not, we do.
I won't say much about the symbolism of the painting in order not to give too much away. The most obvious metaphor was the chain around the bird's talon. Theo, too, has a chain–in fact–he had several chains.
The ending wraps everything up nicely, but it goes on and on and on. My ability to skim came in very handy.
So, for this Pulitzer I would only give three stars.
If you liked this review, sign up on my site and get the first 2 chapters of The Clock Strikes Midnight. You will also get notices of contests and pre-sales.