Five-Star Review on Amazon for Hire Smart and Keep 'Em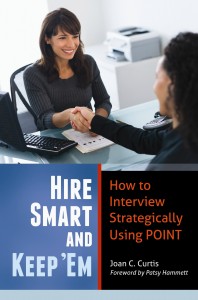 5.0 out of 5 stars Outstanding: this book is an essential read for any interviewer!!, August 26, 2012
I've been involved in interviewing and hiring sales associates for almost 20 years. Have you ever interviewed a candidate who seemed to be a star and ultimately joined the team only to wonder what happened to that person when you observed behaviors on the job that you didn't detect at all during the interview? I think any manager would agree that one bad hiring decision can potentially lead to a mountain of headaches and lost productivity.Hire Smart and Keep `Em: How to Interview Strategically Using POINT by Joan Curtis is an absolute MUST READ for anyone involved in talent acquisition! It's well written, easy to read and offers countless tips to make the interview process go smoothly. Ms. Curtis teaches how to create an open and safe environment for the candidate to share things that would likely never come up in a set of scripted questions.
After modifying my approach to interviewing and using the POINT process outlined by Ms. Curtis, I am confident that I've gotten to know
candidates on a deeper level and have much more easily identified past behaviors that might predict future success (or lack thereof!) for the role in question. The practices revealed in Hire Smart and Keep `Em: How to Interview Strategically Using POINT have improved the skills of our interviewers and made a highly positive impact on our process of bringing on new talent. The tools in this book should be essential education for anyone involved in interviewing!