"
For me, that was "Ordinary Grace"…I put everything I know about storytelling into this book," said William Kent Krueger about his 2014 Edgar Award winning novel.
 I did not care too much for Goldfinch and I could list the Man Booker Award winners I thought worthy on one hand and perhaps 2 fingers. This time, however, the judges got it right. Congratulations to the Edgar Awards for recognizing an excellent book.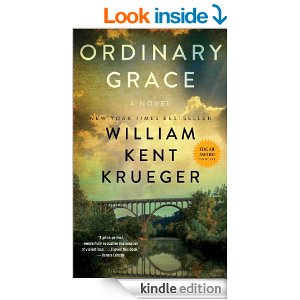 . I will, however, share what I found most compelling.
First of all the writing was the best you'll read. It felt more literary than commercial fiction. Here are some of my favorite passages:
To this day there are pieces (of music) I cannot hear without imagining my sister's fingers shaping the music every bit as magnificently as God shaped the wings of butterflies.
. . . birds so ordinary and profuse that they fill the air like dandelion fluff.
.
. . .eyes whose blue was so intense it was as if he'd purchased pieces of the sky for their making
The dead are never far from us. They're in our hearts and on our minds and in the end all that separates us from them is a single breath, one final puff of air.
This is the story about a summer in a small Minnesota community. The protagonist, a thirteen-year-old boy tells us about that summer which begins with the tragic death of a child. He tells the story as a storyteller.
.
The characters are sensitively drawn. We understand their struggles and feel attached to each.
There is mystery here, but it isn't so much the mystery that keeps the reader reading. Sure, we want to find our more about the perpetrators of the deaths but even more, we want to find out what happens to the people we grow to love.
Krueger does everything an author should do. He does not tell us too much. He does not cheat the reader. The final conclusion brings satisfaction and a clear understanding of what happened during that summer in 1961.
Ordinary Grace is a tragic story but a beautiful story. The title captures much more than its literal reference in the book. Krueger showed us what ordinary grace is.
If I could give this book more than 5 stars I would. If you take my advice and pick up this book, I'd love to hear your comments.
If you liked this review and want to read more, subscribe to my blog and sign up to get 2 free chapters of The Clock Strikes Midnight before its debut on November 25.