Laurie Halse Anderson did that in her trilogy beginning with Chains. A National Book Award finalist this book deserves all its awards.
In celebration of Martin Luther King, Jr.'s birthday, I timed reading this book perfectly. It's hard for a white person to understand the trauma of slavery, not only among those who lived it but also among those who came later. Being in the skin of this young slave helped me witness the suffering.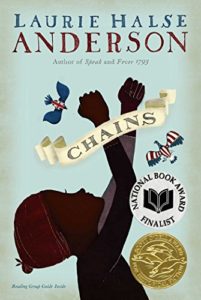 So many of us believe our founding fathers were good people. We believe what they said and did was sacrosanct. We've honor them and set them up as near deities. But, in reality they were people. Full of flaws, just like us. Had they lost the Revolutionary War, they would have been shunned and called traitors. Having won, we herald them as heroes.
In Chains we examine what it might have been like during that turbulent, uncertain time to have been a slave. The main character, Isabel, is a negro child, trying to protect her younger sister.
The author did an amazing job of telling Isabel's story without overdramatizing the hardships. Made it easier for me to read.
The times are tempestuous at best. Finding herself in New York City at the time of the British invasion, Isabel sways from the rebel side to the British side. Her goal is not a country's freedom, which she recognizes as not pertaining to her, but the freedom of herself and her sister. She'll risk her life to achieve that goal.
Each chapter begins with a clip from a primary source, a newspaper article, a letter from a patriot or a British soldier, an excerpt from our historical documents. Those headings ground the chapter in history. The author strives to tell Isabel's story as accurately as she can all these years later.
Thank goodness for those of us just finding this trilogy. Because when you finish Chains, you'll want to keep reading.
Here are some examples of the beautiful writing:
…Being loyal to the one who owned me gave me prickly thoughts, like burrs trapped in my shift, pressing into my skin with every step.
…There was truth in his words, hard truth, a hammer sticking a stone
…"Gossip is the foul smell of the Devil's backside," that's what Momma always said.
…Her voice sounded raw, like it had been run against a grater.
The absolute essence of this first book is written in these words from Isabel's mouth: I was changed between two nations.
Enjoy this wonderful series, titled Seeds of America. If it doesn't win the National Book Award, it certainly should have!!