Maybe you didn't notice but I've been offline for a little while. What have I been doing? Reading and writing. I am working on revisions on my work-in-progress and I've been reading. Recently I finished two very different books but both worth a mention here.
The Last Duel: A True Story of Crime, Scandal and Trial by Combat in Medieval France by Eric Jager. This is a riveting story about the last judicial duel fought in 1386 by Jaques Le Gris and Jean de Carrouges.  The author explains the difference between duels as we may have knowledge (those fought to maintain honor) and the judicial duel. He takes us through the lives of the two combatants and what led to the final outcome. The story plays out like a fast-paced cinema event instead of medieval history. Using primary sources that detail the trial and the combat and all the surrounding events, the author pulls together as best he can what happened. The 14th Century was not a good time in which to be born, particularly if you're a woman. Rape and abuse ran rampant. The Black Plague killed many people who may have survived the knights pillaging. Nonetheless a certain rule of law existed. This book details that rule of law and how it applied to this famous event.
If you love history and you love adventure, this book is for you. I give it 5 stars without hesitation. By the way, it will not put you to sleep, and it's best not to know who the winner of the duel is until the combat ends. If you know ahead of time, it's less suspenseful. Read and enjoy.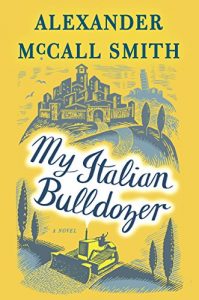 The second book I devoured in just two days. It was totally different that Jager's book. My Italian Bulldozer by Alexander McCall Smith is a delightful, fast read. The story is about romance, love, Italy and food. What better combination after a grueling duel? In this book, the protagonist, Paul Stuart, is a Scottish food and wine author who has found some success with his books. The story begins with his live-in girlfriend tossing him for her personal trainer. At first he sounds whiny and annoying, but his character builds and develops. My only complaint in this book is that the first chapter head-hops. We go from the protagonist's head to the editor's head back and forth enough to make one dizzy. Usually I stop reading when this happens, but I soldiered on and I'm glad I did. The author obeyed point-of-view for the remainder of the book. Thank goodness!
The descriptions of Tuscany and the small town of Montalcino are priceless. He rivals Frances Mayes in his portrayal of the sky, the hillside, and the amazing smells. The author also describes the Italian people and their eccentrics–some a bit exaggerated for the benefit of a good story. This book will make you laugh as well as send you into a world you won't want to leave. Again, even barring the point-of-view errors in the beginning–which I abhor, I give this book an easy 5 stars.
Happy reading! And, when you're done with these books, why not pick up one of mine. Here's a book trailer from e-Murderer if you haven't read it. If you have, pick up the second book in the series, Murder on Moonshine Hill.
SaveSave