I was invited by Sheri Chapman to participate in a blog hop. I interviewed Sheri on this blog. You can read more about her there. But, let me give you a short update.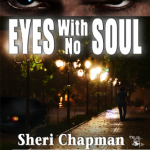 Sheri introduced us to Iva Valentino, the character in Eyes with No Soul in this post. Take a look a meet Iva.
Now let's meet my character. I'm supposed to answer 7 easy questions about her. So, here goes. . .
What is the name of your character? Is he/she fictional or a historic person?
Janie Knox is a fictional character. She's about 38 years old, has blond curly hair and brown eyes.
Where and When is the story set?
The story is set in Decatur, Georgia which is a wonderful city within Metro-Atlanta. It is set in the present day.
What should we know about Janie?
Janie has become a successful business woman who owns a number of hair salons throughout Savannah, Georgia. She's in a long-term relationship with another woman. And, she just learned that she has three months to live.
What is the main conflict/what messes up her life?
Her goal is to reunite with her sister and to destroy her stepfather, the man who was convicted of killing her mother.
Having not been home (or in touch with her family) for 20 years, Janie encounters a number of obstacles. Her stepfather was recently released from prison and is trying to prove his innocence. Her sister refuses to help her unravel the truth and punish their stepfather. Her health continues to deteriorate.
What is Janie's personal goal?
She wants to make up for those bad things by saving her sister from the tyranny of her stepfather before she dies.
To read more about Janie, sign up and get the first 2 chapters for free.
I'm passing the baton to the paranormal mystery team Heather Fraser Brainerd and David Fraser who will introduce us to Josie Cates. Check out their new book. The Sound of Sirens