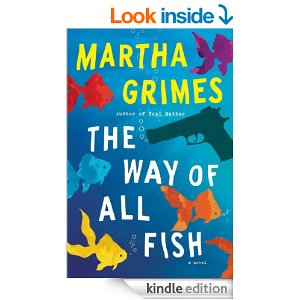 Recently I read The Way of All Fish by Martha Grimes. If you want a good laugh or two, pick it up. Grimes, one of the best crime/mystery writers of our time, created the delicious Richard Jury, Scotland Yard hero, as well as casts of characters that kept readers inthralled for years. In this new series which started with Foul Play she makes fun of everything mystery and publishing.
Just to give you a taste. The book begins with a shoot out, but the only thing shot is an aquarium full of fish. The stunned restaurant patrons forget to call 911 they are so focused on rescuing the fish who are flopping around on the floor. From there we meet our two heroes–two hit men with a conscious. They decide to protect a lost female writer who has been wronged by her agent. Grimes takes swipes at agents, publishers, best-selling writers and more. Fish swim through this story in obvious ways (Oscar the pet fish and an exotic, illegal fish cartel) to more subtle ways that I challenge you to uncover. The book slows down in the middle, like many books. It made me wonder where Grimes was going with the various antics. The ending ties everything up albeit in a rather trite package. No, it's not Grimes at her best, but it was worth reading if not for anything else for a good laugh.
One has to wonder what happened to Mrs. Grimes to prompt such a viciously funny attack on the industry that made her successful.