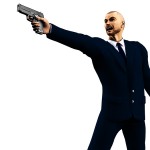 How bad do we make our villains?  As a writer, I sometimes find the villains in the stories I read more compelling than the good-guys.  What about you, do you agree?
One of the best villains I've run across was in Ordinary Thunderstorms by William Boyd. This villain was pretty awful. He was a hired killer, and he was very good at his job. Our hapless hero seemed pretty inept against such a cold-blooded killer. At first I thought the killer was a clear sociopath. He killed without remorse. That's the nature of sociopaths (Remember Truman Capote's killers in In Cold Blood?).
The worry I had throughout the book was not for the safety of our hero (even though I did worry about him as well–poor sap) but for the killer's dog. The dog loved our killer. His neighbor gave him the dog and he had not figured out how to get rid of him. As the book progressed, the dog became a liability for the killer. I'm the kind of reader who cannot ever read about an animal or a child getting killed. I won't commit such atrocities in my writing nor do I want to read about them.
Unfortunately Boyd's skillful writing carried me well into this book and it was not going to be easy to put it down and leave it unfinished because I couldn't stand what might happen to the dog. I did what any self-respecting reader might do in these circumstances.  I read right up to where the killer was going to put a bullet through the dog's brain. Then I closed my eyes (as if watching a movie) and I skipped ahead.
Lo! Once ahead, I realized the dog wasn't dead.  The killer couldn't do it!!!  This man, who would kill his own mother, couldn't kill a dog.  Now, that's what a call a great villain. If Boyd had allowed him to kill the dog, he would have been an ordinary sociopath. Instead Boyd created a much richer villain.
Thank you William Boyd for saving the dog and for creating a really interesting killer.
Tell me about the villains you've found compelling.  What works and what doesn't?