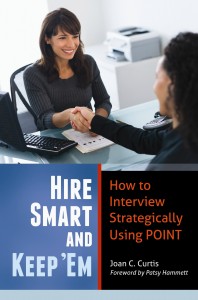 Keep `Em and Save Both Time and Money, December 5, 2012
The phrase, "Time is money," has been in use since the 1700's and is particularly applicable today. It implies that if
you are not carefully handling your time, you are losing money. Time spent in seeking new employees is time not
spent on other managerial duties, or simply time not spent moving your business or enterprise ahead. That is an okay tradeoff if at the end of that time spent the employee you hire turns out to be not only a good worker, but one who
will stay with you. Recruiting and hiring new employees is not a process that many like to repeat.Hire Smart and Keep `Em, by Dr. Joan C. Curtis is a book built on the theme that you can save both time and money
by hiring the right person for the job the first time around. This book, written in clear style, follows the
speech-teachers-maxim, "Tell them what you are going to tell them, tell them, and then tell them what you told them." With each chapter, Dr. Curtis leads you down the path of not only successful hiring, but provides strategies to ensure that you and the person you hire will benefit for the long term.For this, Dr. Curtis utilizes what she calls the POINT process. In this title, P stands for plan, O is for open, IN stand
for intentional, and T is for test. For each step in the process you will receive an explanation of the importance of the step as well as digestible examples of the process in action. Many chapters also have a short self-administered quiz
or exercise at the end to help you determine that you have understood the concept. Answers to the questions appear
in Appendix A.You will find explanations of intentional listening skills that will benefit employers and employees alike not only in interviewing, but to be utilized as standard business practice. For example, one way to show that you are actively
listening in a conversation is to paraphrase. When you paraphrase what another has just uttered, you make "a
statement that represents in your words what the person has just said: it has an understood question mark at the end." A successful paraphrase, not only results in a clarification of the candidate's view/statement, but also produces "more information for the interviewer to explore." Here is an example, from the book:Candidate: When I worked for the Athletic Association, I had an opportunity to go to all the home games. I felt as though I was part of something bigger than simply typing and filing. We all were a part of the team. When the team won, everyone celebrated together as if we all had a part in it.
Interviewer: It sounds as if you like working in a job where there is a strong team spirit.
The candidate then may agree with your assessment, or provide clarification.
This is just one brief example in a book filled with tips and topics that can help you not only avoid some common
pitfalls during hiring, but if utilized, can help you in daily interactions as well.
Thank you, Dr. Curtis.