What books qualify for Joan's must-reads?  I prefer books with a compelling story and excellent writing. Sometimes I'll read books that lack one of these two qualities, but to make it to my must-read list, I require both.
David Mitch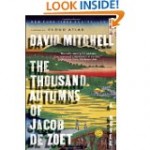 ell's The Thousand Autumns of Jacob de Zoet is a definite must-read.  What a title!  Upon reading it, you might turn away and select something else, but if you do, you've missed a wonderfully written story.
Mitchell begins the book in 1799 on a small island outside of Japan, Dijima.  This island is the only place where the then extremely isolated Japanese allowed trading with the outside world (the Dutch in particular). Our main character, Jacob de Zoet, arrived from a small town in Holland to make his fortune and a name for himself so he could marry his sweetheart.
Many things conspire against our hero. First, he takes a huge risk when he decides to smuggle in a Psalter (a Christian book).  The Japanese forbade any Christian relics, particularly books, crucifixes, rituals, etc. They were not interested in being overrun by missionaries or other outsiders trying to upturn their own beliefs. If Jacob were found with this offending item, he could have been tossed in the brink.
Jacob kept the book because it belonged to his great grandfather. It was something he didn't think he could live without. At this stage of the book, we've learned two things about our character: risk-taker and strong beliefs. Fortunately for him, he made friends with the chief translator who ignored the book in exchange for lessons on the Dutch language.
Mitchell develops the story around fascinating characters, including an interesting young Japanese woman who excelled as a midwife. The story reveals much about the Japanese culture during this early part of the 19th Century. It also reveals much about the Dutch merchants.
If you want to read a compelling story with characters whom you'll warm to and with a bit of history about a part of the world most people have never heard of, this book is a must-read.
Furthermore, Mitchell writes with the skill of a master. The language in the dialogue is superb and matches the language of the time. He juggles three languages–Japanese or Dutch or English–without imposing uncomfortable dialects.
The plot moves fast and just when you think everything will work out, boom, something else happens. My only complaint was with the ending. Not in the form of an epilogue, it was written as such.  Yes, we readers want to know what happened to everyone. Instead of carrying us through the saga Mitchell tells as might a news reporter. My guess is he grew tired of the story.  As a reader, I wasn't tired and would have loved to have "seen" more.
Nonetheless, you'll finish The Thousand Autumns of Jacob de Zoet wishing for more and sorry to turn the last page of a wonderful book.  . .