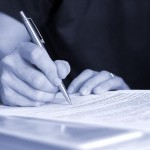 When writers tell me that they hardly edit their work, I cringe. Before I knew more about the creative process, I thought I was the only one who had to work and work to get my drafts decent enough to send out. Now I know that few people, even the best writers, write a first draft and are finished.
The reason it's called the "first" draft is that it won't be the last. Have you ever heard of a writer writing a "last" draft? If I had to name one thing that causes writers to get stuck, it's trying to be perfect–finding that perfect character or setting or tidbit from history. These are the stumbling blocks that cause us to stop dead in our creative tracks.
Instead, we must do what Anne Lamott says, "Write a shitty first draft." Her philosophy–which apparently works if you count the number of books she's published–is to get it on paper. It may not be perfect. In fact, it's not supposed to be perfect. Get it on paper and then you can decide what to do with it.
I've used this excellent advice with my coaching clients. Some are stuck. One way to get unstuck is to simply write. Let the words loose and quite worrying about commas or absolute  facts. You can put those things in later.
What do you think? Is writing a "shitty" first draft good advice? Tell me about your experiences.