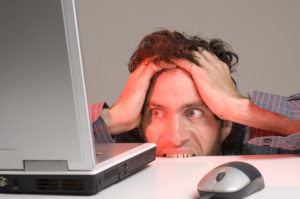 My head aches with grammar conundrums. Actually I thought conundrum was both singular and plural. But apparently the plural is okay. What about genre? That's another one that causes my head to throb. Putting an 's' on genre screams WRONG!
My most recent book: A Painting to Die for comes out in the fall. When we were editing that book, one of my more attentive Beta readers asked, "Is it I could care less or I couldn't care less?" Lord only knew? Believe me I had no idea. Being a Southerner who speaks Southern, we tend to leave off excess syllables. My reader was from the mid-West and enunciated much better than I did (or than my characters do). So, I Googled it and guess what the answer was? Maybe you already know. I couldn't care less. Trust me, that's not what many people say!
As for my current work-in-progress, another one of those little colloquial expressions cropped up. Again it came from a Southern speaking character. This time my Beta reader asked, "Is it cut and dry or cut and dried?" Good grief! Again sweating bullets, I had no idea what the answer was. My characters tended to use that expression frequently. Mr. Google helped out again. What in the world did we do before Google? Anyway, do you know the answer? Would you have caught it in my manuscript if you were an early reader? The answer according to Google is "cut and dried." Again, my lazy Southern characters always said, cut and dry.
Finally today I had a friend ask me a question. Friends do this because I'm a writer and they think I know everything. Anyway, she said she was completely inflexible or is it unflexible? Do you think I had the answer on the tip of my tongue? (or is it tips of my tongue?). This time Mr. Google copped out. Here's the answer:
Unflexible is a synonym of inflexible. As adjectives the difference between unflexible and inflexible is that unflexible is not flexible while inflexible is not flexible; not capable of bending or being bent; stiff; rigid; firm; unyielding.
Can you figure that one out? My computer keeps auto correcting unflexible to inflexible. So… maybe the computer knows.