It is a finalist for the Eric Hoffer Book Award for 2016. Only ten percent of the entries reach the stage of finalist. This recognition indicates that this book is up there with the upper echelon. If you haven't read it, maybe now is the time.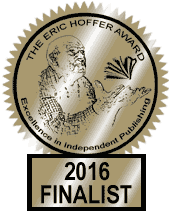 The story shifts between two sisters, Janie and Marlene. They had a turbulent life growing up and later drifted apart. Devastating news brought Janie back to her hometown to confront the demons she left there. The story develops as the two sisters overcome obstacles that nearly break them. Full of emotion as well as suspense, this book promises to keep you turning the pages.
With four major awards, The Clock Strikes Midnight, appears in both print and electronic form on Amazon. You can still get a copy for just $2.99.
Check out the book trailer.