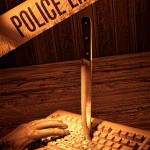 How would you like to be the first reader of a new mystery? I'd love your feedback. I'm starting with the first 1500 words of the first chapter.
Chapter 1
All I wanted in life was a good man and a million bucks. But so far both eluded me. This Monday morning like every other before it, I rubbed my newly purchased lottery ticket to find another losing combination. Frustrated, I sipped my skinny latte and turned on my computer.  Half-way down my Inbox, I found this staring at me.
            I stabbed her to death last night. The life flowed from her body and her flesh turned yellow. Oh, the sheer pleasure of it. It's the first time I've killed anyone, BUT IT WON'T BE THE LAST.
Heart racing, I blinked twice and re-read the message. Good grief, what a way to start the week. Normally, I wouldn't open e-mails from people I didn't know. But I worked for a shrink. Also, normally I'd erase such crap and chalk it up to spam. Again, though, I worked for a shrink. Crazy emails were like root canals to a dentist. All in a day's work. This one, though, sent a chill down my spine.
"Mornin', Jenna." Starr Andrews, my co-worker, tossed her purse on the desk next to mine.
"Look at this," I said.
Starr peered at the screen. Her large blue eyes widened as the words registered.
"What do you make of it?"
"A message from some sick weirdo. What's fi mean?" Starr said, referring to the return address–anon@anon.penet.fi.
"I've no idea. It was probably meant for Dr. B–" Just then another email flashed on the screen.
The smell of blood really turned me on. I had no idea it would excite me like this. Can't wait to do it again.
 "My God, Starr. We need to do something. This maniac says he's gonna do it again."
Starr lowered her voice as if the e-mailer might hear. "Maybe we need to change our account or block these scary messages somehow."
"It's not just the message; it's what the creep is saying. This has to be one of Dr. B's patients."
"What are you gonna do?"
Everything inside me screamed, delete it!!! Instead, I said, "I'm gonna show these messages to Dr. B and then I'm gonna hit that delete button and hope I never see anything like this again.'
"Good plan," Starr said, moving back to her desk. "I'm sure Dr. B will know what to do."
Starr and I worked for Dr. Niles Bingham–psychiatrist extraordinaire–in a relatively quiet college town, nestled in northeast Georgia. Athens had all the makings of paradise–mild climate, outdoor dining, two Super Wal-Marts, beautiful young bodies jogging along the streets–but it also had its share of crime, being a scant seventy miles northeast of Atlanta.
Starr took out her compact to straighten her dishwater blond mop-top which looked a bit more disheveled than usual. I hoped all was well at home. Her husband, Steve, could be unpredictable and that was putting it mildly.
"The appointment charts are on the file ledge," I said, adding one more folder to the stack.
We worked in tight quarters behind a reception window facing the front hallway entrance. Starr's desk sat adjacent to the door leading to the inner hall and mine faced an outside window. First thing every morning I opened the blinds. Blue sky and sunshine helped me get through the day and gave a smidgen of life to the philodendron sitting on the floor next to my desk. Then, as part of my job, I went through all the e-mails that came in, even those directed to Dr. B. Today, I wished I'd conveniently forgotten that part of my job description. The ugly words from those e-mails kept flashing in my mind–yellow flesh, smell of blood. . .
"God, it's hot already. My face is redder than my Cousin Wallie's ripest tomato. This has gotta be the worst August yet," said Starr, who was about as Southern as they came and knew hot summers better than anybody I could think of. She dabbed some powder on her nose and let out a long sigh.
"Jenna, honey, you should wear a bright red lipstick. Something like this Sizzling Flame." She smoothed a smear of gloss across her shiny red mouth. "With your dark skin and those green eyes, red would suit you like a hog to sunshine."
I shut down my computer, fearing I might see another one of those messages and began sorting through the mountain of insurance forms covering my desk. "I've never worn much lipstick."
"That's what I'm saying, sweet pea. I'm not believing how little your mama taught you. Put on a little of this and some blush on your cheeks. For real, you gotta think about these things. You're young now, but in two years you'll face the big 3-0."
"Thanks for the news bulletin."
Eighteen months my junior, Starr loved to remind me of her youth and my near senior status. I took the tube of lipstick she offered and smeared some across my lips. One glance in the mirror made me shudder. I looked like a circus clown who'd eaten too much cherry pie.
"So who's on for this morning?" She picked through the files. Her long fingernails matched her sizzling red lips. "Oh boy, Mrs. Lehman is coming. She's a real trip. I wonder who she'll think she is today."
I rubbed off the lipstick. "Last week she was an angel working on behalf of God. Maybe she's been promoted to the Virgin Mary."
"Jenna, you shouldn't joke about those things," Dr. Bingham's deep voice boomed. "Only last week Mrs. Lehman told me she was exhausted. It's not easy being an angel." He grinned, reminding me my boss wasn't always Mr. Serious.
Starr giggled. "I'd never know."
"Your first appointment is in ten minutes, Dr. B." I trotted down the hall after him with the day's folders in hand. "But there's something I need to talk to you about first."
"Mr. Porter is usually late," Starr hollered after us. "I sure hope he doesn't bring his wife again this week. Last time she flat out drove me crazy with all her chatter. She ran her mouth the entire time y'all were in session. No wonder that poor man needs a psychiatrist."
I kept pace behind Dr. Bingham's long strides. When he reached his desk, he lifted a pipe and loaded it with tobacco. He once told me he'd begun smoking a pipe in medical school to look older. At forty-three he still looked pretty good as far as I was concerned.
"Better not light that if Mrs. Porter comes. She had a fit the last time you smoked while her husband was with you."
He shrugged and lit it anyway. Puff, puff, puff. "I'll put it out before he comes. So, what's up?"
I handed Dr. Bingham the files for the day and a pile of insurance forms. He put the folders on the corner of his desk, scrawled his name on the insurance forms, and puffed on his pipe, never looking up.
"We got a couple of strange e-mails this morning that gave me the creeps. Not the usual stuff, you know, love letters or nasty words for the shrink who couldn't pull off a miracle cure. These were different." I settled across from him, smoothed out the wrinkles in my skirt, and watched his face.
His thick dark hair flopped in his eyes. "Oh?"
"At first I thought it was probably nothing, but, then we got another one. They sound genuine. I wondered if a patient might have sent them, maybe to get your attention or something?"
"These things are rather common, aren't they? I mean, cyber viruses and such."
"Well, yeah, but I don't think this is a virus."
"What did the e-mails say exactly?"
I shifted in my seat, not wanting to repeat the gruesome words. "Stuff about killing someone and wanting to kill someone else. How 'bout I forward them to you so you can take a look."
He nodded."Okay I'll take a look, but it's probably just a prank of some kind." Puff, puff, puff.
"So, how's school?" asked my cool, calm boss, never one to be bothered by bloodthirsty lunatics.
"Pretty busy right now with lots of reading and two papers due by the end of the week. If I'd realized getting a doctorate would be so hard, I might have thought twice before going back. I hardly have a social life."
I'd started my degree in criminal psychology two years earlier. My goal in returning to school was to discover the mysteries behind human behavior, especially people who murder and maim each other. After two years, I still didn't have a clue. When I decided to enter grad school, Dr. Bingham hired Starr, and I cut back to part-time, meaning I worked when I could, and my boss didn't care as long as the job got done.
Dr. B was the perfect boss–self-confident but still needing taking care of–the kind of boss secretaries dreamed about. He depended on me to organize the office and sometimes to help organize him. I gladly did my darndest.
"Are you still dating Tim?"
I looked away and cleared my throat, hating the way he asked these personal questions, but recognizing, he just couldn't help himself. "Timothy," I corrected. "He doesn't like to be called Tim. And Frank. I've been going out with the two of them for about six months."
"Can't make up your mind?"
Dr. Bingham's buzzer interrupted us.
Stay tuned for the next installment. . .