Okay let's be clear, I'm a sane person. Or, at least as sane as the next guy. Nonetheless, I imagine my characters directing my stories. Yep, they tell me what to do. I've tried to direct them, but that usually leads to a dead end. Some people call that dead end writer's block. But, in reality, it's when the writer tries to interfere with their characters.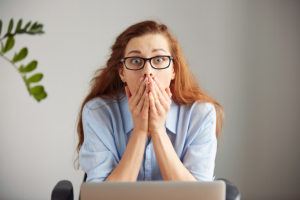 When I first began writing (back eons ago), I had a character pushing me to do something I thought was awful. I didn't want her to do it. I ignored her for as long as I could. Finally I reached a point in the story where I was either going to let her do it or stop writing. So, I acquiesced. Well, not really. I came up with a solution that I could live with and apparently so could the character. I had the character dream they did this dastardly dead. You might say that was a cop out, but in reality, the dream seemed so real to the character that it felt as if she did the deed. That changed her behavior toward others in the story and that enabled me to move the story forward.
That was my first experience with a character pushing the envelope. Since then it has happened over and over and I've learned to trust the characters.
Put yourself in the place of the character and imagine what that person might do.
Be sure to create fully developed characters. People you would recognize on the street. If you've created plastic, stereotypical characters, you won't be able to get in their heads.
When your character comes up with a bizarre  suggestion, don't just discount it. See what happens if you go with it. See where that takes you. Remember, you can always delete it later.
If you tend to be an outliner vs. a pantser, you'll have more trouble with this. Outliners are too wedded to the outline. How to fix that? Let your outline go at times. Be willing to move from your outline. Some writers are a mixture of outliners and pantsers. They write with a rough outline but are willing to go with the flow.
Be sure to write in a quiet place with as few interruptions as possible. As soon as you're interrupted, your character disappears. It's like walking in on a ghost and saying, "Wow! You're a ghost!" Poof. The ghost is gone.
Take a look at this video with more tips and my lessons for how to listen to your characters.

SaveSave